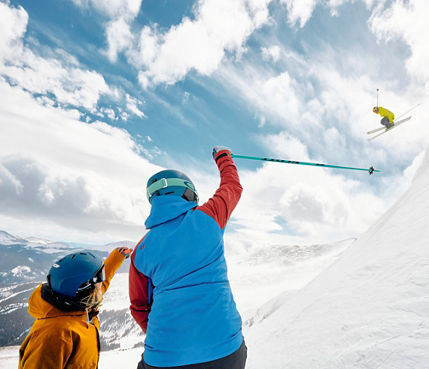 Breck is known for legendary winter activities—our slopes offer one of the best skiing experiences in the world—but, as the locals say, you'll "come for the winter and stay for the summer." From a family-friendly day to an adrenaline-pumping biking excursion, here are 50 things to do in Breck this summer.

1. Check out Epic Discovery
With an Ultimate Adventure Pass you can zoom down the Gold Runner Coaster, pan for gold, bounce in the bounce house, putt putt golf, take a scenic chairlift ride, speed down the Alpine Slide, climb the climbing wall, navigate the Mineshaft Maze, bounce on the trampoline, and more! Chances are your legs will be exhausted, but you'll have a fantastic smile on your face.
2. Catch a Symphony 

The National Repertory Orchestra is based in Breck and puts on some of the most incredible symphonies in Colorado. Concerts are held a few times a week throughout summer. Check the Orchestra's events calendar for upcoming concert details.
3. Give Back to the Forest 

To ensure the health of our valuable forests, one percent of all resort summer activity revenue will be donated to The Nature Conservancy for forest health restoration projects here in the West. Learn More.
4. Get Artsy 

Explore the Breckenridge Creative Arts District and interactive festivals, such as the Breckenridge International Festival of Arts, which generally begins in August of each year.
5. Go Dog Sledding 

Sledding typically happens in the winter, right? In Breck, our sled dogs need exercising in the summer too, so we take them for off-road scooter rides. Take a sled dog out and make a friend for life.
Mountain biking can be intimidating, so starting off like you would skiing is a great call. Take a lesson from a mountain bike guide to hone your skills, try a new trail, or just learn what Breck can offer you. Trail accessibility changes from year to year — check current conditions before heading out.
7. Try Geocaching 

Like scavenger hunts? Like hiking? Geocaching is the perfect combination of both. Rent a GPS unit or download the Geocaching app to discover hiding spots, then use latitude/longitude on your GPS/phone and a compass to find them.
8. Go to Camp 

Summer camp is a bit different at 9,600 feet. With more nature to explore on Breckenridge mountain, kids can really get their imaginations going at Breck's Summer Day Camp. Themes and activities for camp change daily, and multiple-day packages are available.
9. Try out the Alpineer Challenge Course 

Breckenridge's Epic Discovery Alpineer Challenge Course will put your balance to the test along a course with 15 unique obstacles.
10. Hike to Mohawk Lakes
According to locals, this hike is one of the most beautiful in the area. A fairly steep trail will take you up to old mining cabins, a historic mine and one of the most picturesque lakes in Colorado. You can learn more about Mohawk Lakes and other local hikes from AllTrails.
11. Ski! 

A popular spot to get some summer turns in is the 4th of July Bowl over Peak 9. Join locals and ski it on the 4th of July and claim your Colorado mountain cred.
12. Race Rubber Ducks 

Every Labor Day weekend, thousands of rubber ducks hit the waters of Blue River in a race to support the Summit Foundation. Learn more about the annual event on the Summit Foundation website.
13. Go Tubing 

Round up your smallest kiddos and head to Tom's Nugget Tubing Hill on Breckenridge mountain.
14. Roast S'mores 

What's summer without a little roasted marshmallow? Head to the DoubleTree by Hilton Breckenridge, where you can roast s'mores on the deck (Tip: put a Rolo in the marshmallow and then roast it for a real treat, or use a Nature Valley Granola thin as your cracker!).
15. Mine for Gold 

Breck's roots run deep with mining history and you'd be remiss to not experience our town the way our founders did over 150 years ago. Pan for gemstones at the base of Peak 8 in the Fun Park, then take a mine tour at Country Boy Mine to really see it all. Check out our guide for other fun tours in Breck.
16. Climb Every Mountain 

Scale each of Breck mountain's four peaks. Take the Colorado Chair up to Peak 8 for a head start and remember to bring lots of water as altitude can really affect you above 12,000 feet (Peak 10's summit is at 13,643 feet, Peak 9: 13,198 feet, Peak 8: 12,998 feet, and Peak 7: 12,677 feet).
17. Eat a Crepe 

One of the most popular restaurants in town isn't actually a restaurant at all—it's a crepe stand. In the center of town along Main Street, Crepes A La Cart offers sweet and savory concoctions fireside for a truly unique Breck bite.
18. Take a Sailboat Cruise 

If you want to get on the water and have a unique experience, check out one of the sailing cruises offered at the Dillon Reservoir Marina. The marina is located about 30 minutes from Breck and boasts outstanding views of the surrounding peaks.
19. Fly Fish 

Colorado trout are a bit different than anywhere else, making the fly fishing in and around Breck slightly more challenging. Talk to Breckenridge Outfitters to see what's biting where and string up that rod for an incredible day on the river.
20. Have a Spa Day 

Thunderstorms tend to roll through the mountains almost every day for about 30 minutes in the afternoons—giving you the perfect opportunity to spend some time at the spa. Visit the Rejuvenation Center at One Ski Hill Place for a massage or pedicure or just enjoy the flavored water in reception.
21. Get Lost 

Meander through the Mineshaft Maze at the base of Peak 8 to test your navigation skills. Kids love trying to see who can get through the fastest, and parents love watching the confusion from the viewing deck.
22. Go Horseback Riding 

Embrace your inner cowboy by saddling up one of Breck Stables' trusty horses. Trail rides are 90 minutes or can be booked over dinner.
23. Attend an Arts Festival 

Breck hosts a few fantastic events throughout the summer for every taste of art. Check out local and visiting artwork at Old Masonic Hall and take a piece of Breck home with you. Check the event calendar for more info.
24. Go on a Cruiser Ride 

Downtown Breckenridge is the perfect place to explore via cruiser bike or townie. Rent one from a variety of shops in town, including Breck Sports.
25. Enjoy Happy Hour 

Every local's favorite after-work activity is happy hour, where the drinks are cheap, the views awesome and the weather perfect. Head to the TBar or Sevens for a few of the greatest decks and brews in town. If you prefer wine, stop by one of these great places for wine in Breck.
26. Conquer a 14'er 

Quandary Peak tops out at 14,265 feet and is one of Colorado's 58 legendary 14'ers. Drive south through town to Blue River to start this hike (and do it before 5 a.m. as you'll need to be off the mountain before 1 p.m.) for some major bragging rights.
27. Go Whitewater Rafting 

AVA Outfitters offers whitewater rafting on five rivers near Breckenridge. Whether you're looking for an easy-going float trip or an adrenaline-fueled paddlefest, the rivers and guides offer it all. Add a rafting adventure in Colorado to your bucket list with our guide to the whitewater rafting in Breck.
28. Go Bowling 

Staying at One Ski Hill Place? Guests can use the Mine Shaft Bowling Alley for free. Two lanes are decorated like an old mine shaft for a historic twist on the nostalgic sport.
29. Say "Prost!" at Oktoberfest 

Breck's Oktoberfest is one of the biggest in the state as Main Street shuts down for more than two dozen food vendors, bier carts, polka music and other traditional German activities. Oktoberfest in Breck is usually held in September every year.
30. Workout 

Think you can't get enough activity outside? Head indoors to the Breckenridge Recreation Center to workout, swim, attend a class, rock climb or run on the track. Daily admission for an adult is $20.
31. Go on a Haunted Tour 

Learn about our local legends, like Barney Ford and Father Dyer, as well as what their spirits might be up to now on a haunted walking tour.
32. Shop 

There are over 200 shops and restaurants in Breckenridge and it can be a challenge to get to them all. Be sure to stop by Breck Sports, ValleyGirl, Magical Scraps, and more on your trip.
33. Golf 

They say your ball travels faster at altitude. Why not take a swing at that theory at Breckenridge Golf Club? Head to the beautiful 27-hole Jack Nicklaus-designed course and see how your game improves.
34. Go Ice Skating 

When hockey isn't in session at the Stephen C. West Ice Arena on the south end of town, the public is welcome to come skate. Test your skills on our rink—one of the highest in elevation in the country.
35. Take a Cooking Class 

Check out private culinary classes at Colorado Mountain College—you'll learn how to cook something globally inspired and delicious and get to eat it right there in class.
36. Take a Dip 

Guests at Mountain Thunder Lodge can enjoy one of the best pools in Breckenridge. Feel like cooling off or just sitting poolside for an afternoon? Book your stay at this walk-to-town hotel.
37. Stand-up Paddleboard on Maggie Pond 

One of the most popular summer activities in the high country is stand-up paddleboarding. Before hitting the rivers, try your balance on Maggie Pond. Demos and guided yoga classes are held every week and many shops around town rent boards.
38. Learn How Bourbon is Made 

The Breckenridge Distillery is one of the top bourbon-makers in the world. Take a tour of their Airport Road location to learn their secrets and dine in the new upscale restaurant.
39. Go Off Road 

Take an off-roading tour near Breckenridge with one of these 4×4 or ATV tour groups near our resort.
40. Take a Hot Air Balloon Ride 

Head out on a hot air balloon ride that offers riders views into seven counties in the area. Soar above the tallest peaks in Breckenridge as you get a new perspective on Colorado.
41. Play a Game of Mini Golf
Practice your putting while having fun with the whole family at Breck's on- resort mini-golf course.
42. Paint and Create 

Head to Ready Paint Fire on Ridge Street to see what masterpiece you can create. Reserve your spot for a canvas party and bring your own wine to embrace your inner Picasso.
43. Attend Breck's Beer Fest 

In July of every year, microbrewers from around the country come to Breck for sampling, dancing and admiring the views at the summer Breckenridge Beer Festival.
44. Meet our Firefighters 

Our heroes are our ski patrollers and firefighters. Meet them and see the Red, White, and Blue Fire Museum. The Town of Breck formed their own fire department in 1881 and we have some of the original equipment on display.
45. Play in an Arcade 

Head to Downstairs at Eric's for pizza, Pac-Man, and prizes. With a big arcade to entertain those waiting for a table, this restaurant is a must-do in Breck.
46. Dangle your Toes 

Riding a chairlift without skis feels kind of funny—your feet are so free! Take a scenic chairlift ride on the Colorado SuperChair to hike to Contest Bowl, stop into the Vista Haus, or hike back down (that's really the best way to see the views).
47. Have a Bloody Mary at the T-Bar 

The TBar's bloody Mary's are legendary. You might think you're sipping on a salad while drinking this cocktail. The views of Peak 8 on the patio are absolutely stunning too.
48. Cycle up Hoosier Pass or Swan Mountain Road 

Earn your descent by hoofing it up Hoosier Pass (south of town) or Swan Mountain Road (between Breck and Keystone). These roads have been the site of the U.S. Pro Cycling Challenge and are some of the most grueling in the area.
49. Kayak the Blue River 

Practice paddling on the Blue River, which goes straight through town. The Breck Kayak Park is 1,800 feet long and has over 15 features to test your skills.
50. Find the Breckenridge Troll 

Be sure to head out on a hunt for the Breckenridge troll while you're in town. This 15-foot wooden sculpture is located on the Trollstigen Trail near the Stephen C. West Ice Arena parking lot.


Tell us Your Favorite Activity!
Tag your Instagram, Facebook or Twitter photos with #Breck to show off your favorite summer activities in Breckenridge.