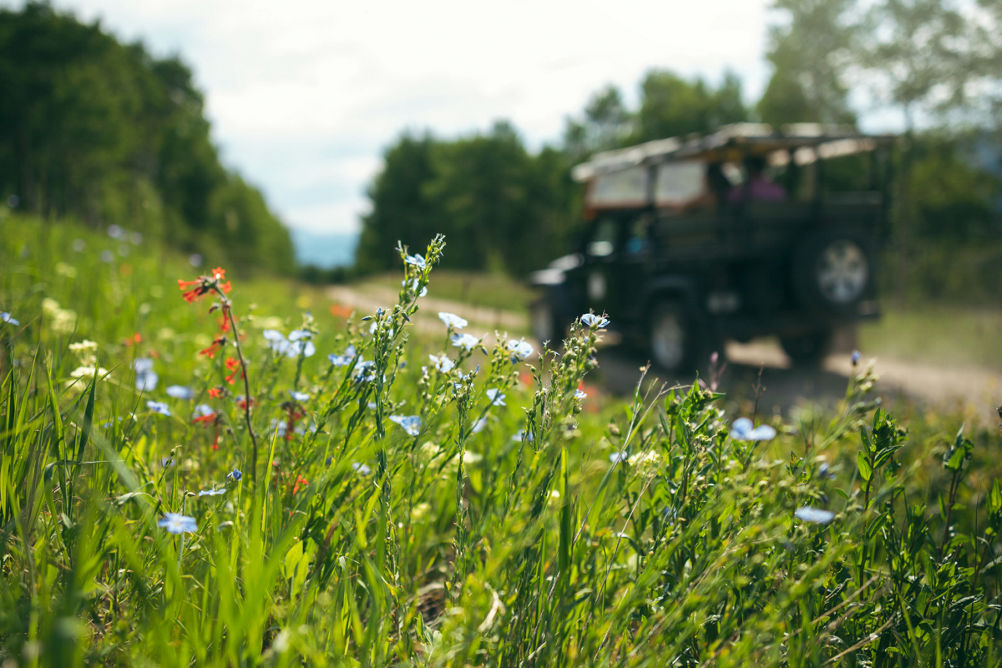 Summertime in Breckenridge means getting out to explore the majestic mountain landscapes surrounding the historic town. Among the options for fun summer activities at Breck are 4x4 and ATV tours, available as guided excursions or self-guided adventures with rented equipment. We recommend Breckenridge 4x4 tours for families and anyone seeking the excitement of off-roading with an expert guide behind the wheel. For a more hands-on experience of navigating a heavy-duty machine on rugged trails, choose one of the various ATV tours in Breckenridge. We'll see you back at Breck, coated in trail dust and thrilled by the day's unforgettable adventure.


Guided ATV and 4x4 Tours near Breckenridge, CO
Several tour companies based in and near Breckenridge offer 4x4 and ATV tours throughout the summer. Some offer both 4x4 and ATV tours, while others specialize in ATV tours only. Note that some ATV tours in Breckenridge also offer UTVs (utility task vehicles) and side-by-sides, which are similar to ATVs but with a different seating configuration. These vehicle options give you more flexibility for riding with passengers and typically present different price points.
2 Do Breck's Jeep Tours and ATV Tours in Breckenridge, CO
Breckenridge-based 2 Do Breck offers
High Country Jeep Tours
and
ATV/Side-by-Side Tours
as well as ATV rentals (unguided tours). All tours take place in the White River National Forest, which has an extensive trail system and sweeping views of four mountain ranges. On a clear day, you can see Colorado's two tallest peaks: Mount Elbert and Mount Massive.
High Country Jeep Tours offers custom itineraries with 15 trail options, all covering remote, scenic terrain. Discuss your preferences with your guide, including how smooth or rugged a ride you would like. You might want to focus on spotting wildlife, photographing the scenery, or exploring ghost towns littered with the remnants of mining operations. The vehicle can accommodate car seats, making these off-road tours in Breckenridge ideal for families with small children.
ATV/Side-by-Side Tours offers two- and four-seater vehicles. Drivers must be at least 16 years old or 18 to drive with a passenger. No experience is necessary, and professional guides provide thorough safety and operating instructions. Ride along high-elevation trails amid scenic aspen groves and meadows. These popular Breckenridge guided ATV tours depart three times a day. Morning and midday tours include a made-to-order lunch from a local restaurant.
Leadville ATV Tours Near Breckenridge
Leadville ATV Tours
is an adventure company based in Leadville, a charming, high-elevation town 42 miles south of Breck. Allow 45 minutes to an hour to drive to their Main Street HQ, where ATV/UTV tours depart from the middle of town. Tours are available daily for anyone aged 2 and up. No experience is necessary, and full personal instruction and safety briefings are provided at the start of every tour.
These ATV tours near Breckenridge are conducted in six-seat UTVs, which accommodate up to four adults and two small children. Drivers must be over 21. There's also the option to ride as a passenger in a UTV driven by an expert guide.
Leadville ATV Tours boasts the highest views of any tour in Colorado, with your adventure starting around 10,000 feet in elevation and taking you up above 12,000 feet. Dress warmly, as it can be chilly. There are 100-plus miles of trails around Leadville, some of which lead past abandoned gold mines and ghost towns. Several 14ers (peaks over 14,000 feet) will be in view, and you may stop to take photos at any time.
High Country Tours from Kremmling
Drive to Kremmling, 53 miles north of Breck, to take one of the super-fun ATV and side-by-side adventures with
High Country Tours
. The Kremmling Guided Tour gives you two to three hours of riding with an expert guide in the Wolford Mountain Special Recreation Management Area. Choose a two-, four- or six-passenger vehicle. A safety briefing and full instructions are provided. You must be at least 16 to drive and 18 to carry a passenger.
High Country Tours also offers unguided ATV rentals to drivers aged 26 and up. Two-person ATVs and two-, four- and six-person side-by-sides are available to rent. Bring a smartphone to download a map of the local trails.
Above and Beyond 4x4 Guides in Wolcott, CO
If you're willing to drive for just over an hour from Breck to 4 Eagle Ranch in Wolcott, Colorado, then consider 4x4 and ATV tours with
Above and Beyond 4x4 Guides
. The sprawling backcountry setting is worth the journey with its beautiful volcanic landscape and diverse ecosystems.
ATV/Razor Tours, available from May to October, take you into the Castle Peak Wilderness Area. Your guide can customize the 2.5-hour tour to suit your interests, and all tours include a hot beverage and snacks. Choose a two- or four-seater vehicle and a morning or afternoon departure.
4x4 Tours, also conducted twice a day from May to October, are suitable for all ages and are customizable. Ride in a custom Jeep Wrangler from 4 Eagle Ranch on backcountry trails. Your guide will chat about the local history and ecology and highlight spots with prime panoramic views over the Vail Valley. Drinks and snacks are provided, and blankets and rain gear are available if needed. Wine Tour packages add a post-ride bottle of wine from Vines at Vail Winery to the standard 4x4 tour.
Rentals for Self-Guided ATV Tours in Breckenridge

Several companies offering guided ATV tours in Breckenridge also allow you to rent their ATVs/UTVs for self-guided tours. In addition, the following local rental companies present rental options:
Fun for You Rentals offers half- and full-day ATV and UTV rentals, with various models available. Packages include a rented truck with a trailer, so you can transport the vehicles from Breckenridge to trailheads of your choice. Trail maps are provided. You must be 21 or older to rent an ATV/UTV.
Adventure Times Rentals in Breckenridge offers UTV rentals for unguided tours. Various models are available for full- or half-day rentals, and the use of a truck and trailer is included. You must be 21 or older to drive the truck, 18 or older to drive a UTV, and 8 or older to ride as a passenger.
Ready for a Summer Vacation at Breck?
If you're getting ready to book an ATV tour near Breckenridge, it's time to explore all your options for a summer vacation at
Breck
!