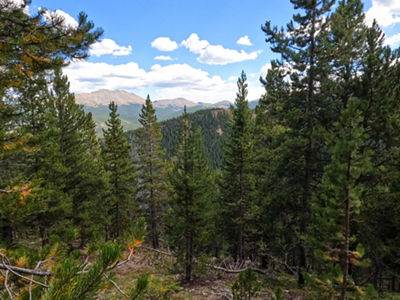 The five stunning peaks of Breckenridge offer a wealth of unique experiences all year round. When the snow melts, there's still plenty of action to be had both on the resort and in the wider area. Colorado whitewater rafting is the ultimate way to cool off and get the blood pumping on your summer trip to Breckenridge. There are countless awe-inspiring destinations for whitewater rafting in the Colorado Rockies, and Breck is a central hub for some of the best.


Whitewater Rafting near Breckenridge: What You Need to Know
Breckenridge rafting starts in spring, so visitors should book their vacation between May and September. The rivers run faster early in the season from snowmelt. For more information on timing and water flow, check with the rafting company you choose or contact the
Breckenridge Welcome Center
. Local providers offer a wide range of trips – from half-day journeys at a relaxed to faster adventures that really put your skills to the test.
The closest whitewater rafting guide services operate out of Frisco on the Blue River, but from Breck you'll also enjoy easy access to enduringly popular spots such as Browns Canyon, the Colorado River, and Clear Creek.
5 Frisco, CO, Whitewater Rafting Options
The closest whitewater rafting to Breckenridge is on the Blue River, with several companies operating out of Frisco, just 30 minutes from Breck.
1. Performance Tours Rafting
Performance Tours Rafting has been operating out of Breckenridge since 1986. With outposts in Frisco and Buena Vista, this is one of the best whitewater rafting companies for Breckenridge visitors. Their
half-day Blue River tour
leaves from their Frisco Outpost, takes about three hours, and is suitable for ages seven and up.
2. KODI Rafting
With a booking desk in Breckenridge and an outpost in Frisco, KODI Rafting is another great whitewater rafting option near Breck. Their half-day Blue River tour takes you through six miles of river in about 90 minutes, but there are several other
tour options departing from the Frisco outpost.
3. The Adventure Company
The Adventure Company offers a
half-day Blue River trip
and a
full-day Pumphouse Canyon trip
departing from Frisco. For their Browns Canyon and Numbers trips on the Arkansas River, shuttles are available to pick you up throughout the town of Breckenridge.
4. Breckenridge Whitewater Rafting
With a
1/3-day Blue River trip
as well as excursions on all the rivers mentioned below, Breckenridge Whitewater Rafting is a solid choice. And if whitewater rafting isn't enough adventure for you, this company offers more action-packed activities, such as rock climbing, fly fishing, and horseback riding.
5. Colorado Rafting Company
Colorado Rafting Company
offers whitewater rafting and more near Breckenridge. From short Blue River excursions to stand-up paddleboards (SUPs) or "ACE" Packages, this Silverthorne-based company ensures visitors get to experience all Summit County has to offer.
4 Colorado Whitewater Rafting Destinations near Breckenridge
Like many outdoor activities, whitewater rafting in Colorado is dependent on water flow throughout the season. Fortunately, Breck is the perfect hub for whitewater rafting, centrally located between four incredible rivers. Here are some of the destinations to choose from:
1. Blue River: Closest To Breck
The
Blue River
runs for about 65 miles across Summit County and is the closest whitewater rafting location to Breckenridge.
The Blue River is ideal for shorter whitewater experiences, perhaps to try the sport out or to fit more than one run into a day. There are also some amazing Class III rapids along the Blue River and spectacular views of the Gore Range. When the water flow is at its peak, you can traverse miles in as little as two hours.
Your location for whitewater rafting on Blue River will depend on the company you choose to book through, so check how to get to your starting point directly with the provider.
The water flow here is heavily impacted by the water released from Dillon Reservoir, so the rafting season is sometimes shorter, running from May to July. But don't worry if you're visiting outside this season, since the companies mentioned above all offer excursions on other nearby rivers as well.
2. Arkansas River: Best for Sightseeing
Less than an hour and a half south of Breck is the stunning
Browns Canyon National Monument
. This pristine slice of wilderness is home to a lengthy stretch of the Arkansas River, with areas suitable for all rafting skill levels.
The whole area around Browns Canyon is green and lush in summer. Many excursions are sightseeing-focused, with opportunities to see five famous Colorado 14ers. Most Browns Canyon rafting trips are booked with companies based in Buena Vista, and you can usually make your booking online or over the phone. Full-day adventures through the canyon often include a riverside lunch as well as getting to improve your rafting skills.
If you want to really stretch yourself, ask your raft trip organizer about the Numbers section. This is a highly technical class IV run and only for confident rafters!
3. Colorado River: Most Variety
The Colorado River offers great spots for beginner rafters, with mellow floating starting at
Kremmling
, just an hour north of the resort. This section of the Upper Colorado River is a scenic stretch of water, winding through grassy meadows lush with wildflowers.
For a more challenging section of the Colorado River, head out to
Glenwood Springs
, which is a longer drive at two hours but full of stunning canyon views the whole way. The river crashes dramatically through the Glenwood Canyon, with stunning cliffs on either side and Class III and IV rapids for experienced rafters to navigate. Trip options here include guided raft journeys led by experienced pros who can tell some stories about the river and the surrounding area while also ensuring rafters take the safest route.
4. Clear Creek: Closest to Denver
Clear Creek County
offers plenty of fun on the water, with Clear Creek Canyon's variety of runs providing excitement for rafters of all skill levels. The Creek starts high in the Rockies near Loveland Pass and tumbles through the gorgeous mountain landscape, right into downtown Golden, where you'll see groups of tubers bobbing along enjoying that Colorado sunshine. Expect turbulent water and Gold Rush relics as you make your way through an area rich in both nature and history – several of the towns along Clear Creek were originally founded as mining camps!
There are plenty of rafting companies with trips beginning in Idaho Springs, just an hour east of Breck. The best part is you'll drive right through Idaho Springs if you're heading to Breck from Denver International Airport or the Denver Metro.
Visit Breckenridge for Whitewater Rafting and More This Summer
Rafting near Breckenridge, CO is just one of the many ways you can enjoy an
action-packed summer
at Breckenridge Resort. As always, sustainability is a top concern for the resort team, which is why there are so many easy ways to leave the car behind and
travel around the resort
and town on foot or via gondola. Recycling stations are set across the resort so you can take a summer picnic with an easy conscience, knowing that your trash is being transformed into the picnic tables and chairs you're sitting on.
Take that sustainable attitude with you on your Breckenridge rafting trips: Consider reusable water bottles, car sharing if you're heading to some of the farther destinations, and onsite equipment rental.
Book a summer trip at Breck
now and get whitewater rafting in Colorado on your bucket list.