Mountain Dining
We look forward to welcoming you back to our restaurants this season! Breck's commitment to safety continues to be at the center of everything we do, so as we welcome guests from around the world this season, our COVID-19 policies are focused on the indoor experience at our resort. Before you head to one of our dining establishments, please read through updates to our safety and dining policies.
DINING AND VACCINATIONS: Guests ages 12 and over will be required to show proof of COVID-19 vaccinations to dine at our indoor, cafeteria-style restaurants. Adults 18 and over will also need to provide a photo ID. Government issued IDs with a photo and name matching the guest's vaccination card will be accepted, as well as Epic Passes with photos.
Guests can provide proof of vaccination by showing:
A physical vaccination card

A photo of a vaccination card on their phone

An official vaccination mobile app, including all official U.S. state, European Union and foreign country mobile apps, digital passports and digital certificates; and the following third-party vaccination mobile apps: Clear Health Pass, IATA Travel Pass App, Verifly, VaxYes by Gogetdoc, and CommonPass
One-time validation available:
After the first validation of COVID-19 vaccination, guests may opt for a small, non-transferable sticker to be applied to the front of their pass. Guests with this sticker can re-enter indoor, cafeteria-style restaurants at any Vail Resorts property for the remainder of the season without re-validating their proof of vaccination at the door. Guests may also opt not to receive a sticker and instead to re-validate their proof of vaccination each time they enter indoor, cafeteria-style restaurants. Regardless, Vail Resorts will not be recording any guest vaccination status information.
The following vaccinations recognized by the World Health Organization will be accepted:
Moderna, Pfizer-BioNTech, Johnson & Johnson/Janssen, Oxford-AstraZeneca, Covishield, Sinopharm and Sinovac. This is currently the only part of our experience that will require proof of vaccination, unless required by local public health.
Breckenridge cafeteria-style restaurants that will require proof of vaccination include:
Ski Hill Grill

Vista Haus

The Maggie

Ten Mile Station

The Overlook

Pioneer Crossing
DINING RESERVATIONS: Like last season, it is recommended that you book a reservation to warm-up and eat at many of our on-mountain restaurants using our reservation service. Walk-ins are welcome and will be served on a first-come, first served basis, subject to availability. Reservations will be open (at minimum) 6 days in advance via the Dining Reservation page, the EpicMix app or through QR codes located on-mountain. Click here to learn more and make your reservations.
DINING POLICIES: We strive to provide a variety of dining options for all of our guests who wish to dine with us. In order to accommodate the high volume of customers our restaurants serve, we ask you to observe the following dining policies:
All tables and seats will be available for present guests only. We ask that guests please do not hold tables.

All tables have a time limit of 45 minutes.

There is no storage of personal belongings in our restaurants or lodges unless in a designated locker or cubby area.

Catering or communal food for large groups is not permitted. Individuals and small groups are permitted to bring in their own food.

Holding multiple tables for large group dining and outside parties is not permitted.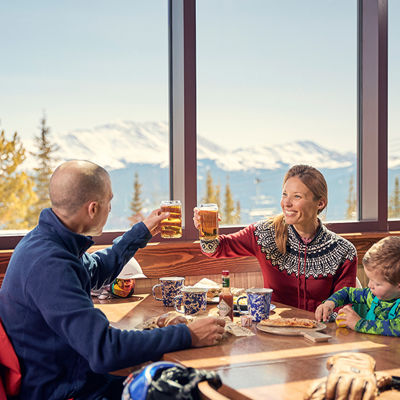 2021-22 Dining Information
We are continuing to prioritize the health of our guests and employees.
As with all of our facilities, masks are required indoors except when eating or drinking.
Quick Service: Guests will be required to show proof of COVID-19 vaccinations to dine at our indoor, on-mountain quick-service (cafeteria-style) restaurants.

Guests who have not been vaccinated will not be permitted to enter our indoor, on-mountain quick-service restaurants.
Proof of vaccination is not required to eat at outdoor restaurants or indoor full-service restaurants.

Time to Dine: Book your mealtime ahead! It's a convenient way to help you plan your breaks, so you can enjoy skiing and riding without worrying about the lunch rush. To see availability and book a mealtime, simply access Time to Dine through our EpicMix app or click here. Time slots open daily at 7 a.m. the day before.
Category
Restaurants
On-Mountain Indoor Dining
(Reservations recommended, proof of vaccination required)

Pioneer Crossing (Peak 7)
Ski Hill Grill (Peak 8)
Vista Haus (Peak 8)
The Maggie (Peak 9)
Ten Mile Station (Peak 9)

Reservations open 6 days prior to booking date
Please cancel your reservation if your plans change

Outdoor Dining/Grab-and-Go
(No reservation or proof of vaccination required)


The Coop (Peak 7)
Outbar (Peak 8)
Parkside Grill (Peak 8)
Ski Hill Coffee Bar (Peak 8)
The Waffle Shop (Peak 9)
Ten Mile BBQ Depot (Peak 9)
Ten Mile Station Coffee Corner (Peak 9)
All outdoor dining is subject to change due to adverse weather conditions

Off-Mountain Indoor Dining

Sevens Restaurant (Base of Peak 7)
TBar Restaurant (Base of Peak 8)
The Living Room (One Ski Hill Place, Base of Peak 8)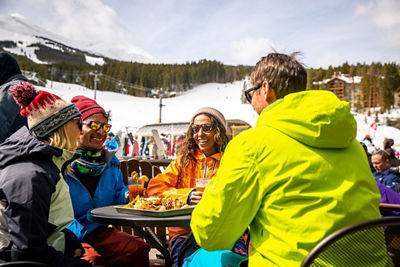 Ski Hill Grill
Ski Hill Grill is Breck's flagship on-mountain dining experience located at the base of Peak 8. The convenient and central location makes this restaurant the gathering place for friends and family to meet.
Offering the most house-made options on the mountain - from fast casual and made-from-scratch favorites to sustainable products and an outdoor barbecue with house-smoked meats, Ski Hill Grill will satisfy your taste for carefully crafted cuisine.
Previous tab
Previous tab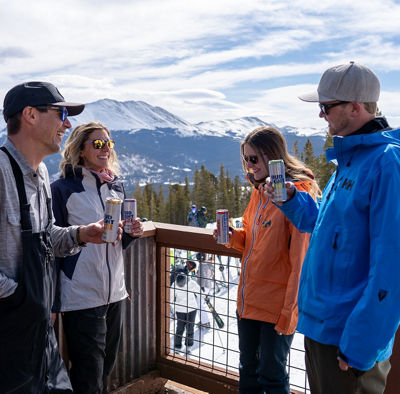 Peak 7 Restaurants
Pioneer Crossing
The newest on-mountain restaurant at Breck, Pioneer Crossing serves up great food, drink and beautiful views overlooking Breck and the Continental Divide.
Location: Located on Peak 7. Accessed off the top of the Independence SuperChair and the brand-new Freedom SuperChair.
Sevens
Sevens is a full-service dining experience in a relaxed yet refined environment. Join us for lunch during the ski day or dinner after the ski day is done.
Location: Sevens is nestled at the base of Peak 7, inside the Grand Lodge. Conveniently located just steps from ski slopes and the Peak 7 stop on the free BreckConnect Gondola.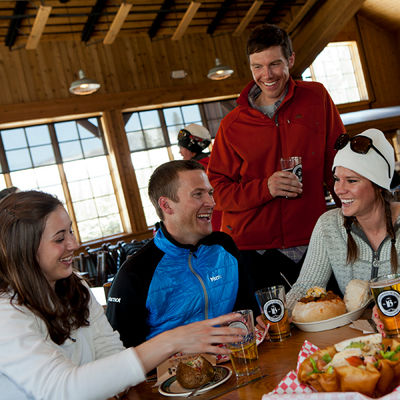 Peak 8 Restaurants
Ski Hill Grill
Ski Hill Grill is Breck's flagship on-mountain dining experience at Peak 8, offering fast-casual food and drink, plus an indoor coffee bar and outdoor BBQ.
Location: At the base of Peak 8. Located at the top of the BreckConnect Gondola.
TBar
The TBar is the on-mountain après hot spot on Peak 8. With a full-service bar and restaurant, the Tbar is the one-stop place for guests looking to fill up and hang out, featuring the most microbrews on-mountain and a full menu of shareable apps and more.
Location: At the base of Peak 8. Located at the top of the BreckConnect gondola, next to Ski Hill Grill.
Vista Haus
Centrally located on the mountain at 11,000 feet above sea-level, Vista Haus is a great spot to refuel during your ski day. Ski in, sit down and ski out when you're ready to tackle the slopes.
Location: Located on Peak 8, the Vista Haus is easily accessed off the top of the Colorado SuperChair.
The Living Room
The Living Room Restaurant and Bar offers a casual and inviting atmosphere, and welcomes guests straight off the slopes for breakfast and lunch, as well as après and dinner. Stop in for a beer or cocktail, or to try the excellent selection of wines.
Location: At the base of Peak 8, inside One Ski Hill Place. Just a short walk from the Colorado SuperChair and the Rocky Mountain SuperChair.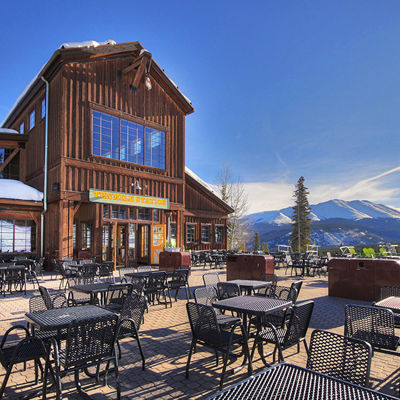 Peak 9 Restaurants
Ten Mile Station
Reminiscent of a beautiful ski lodge, Ten Mile Station offers a variety of BBQ dishes, plus an indoor Coffee Corner and lively patio and outdoor BBQ Depot for dining.
Location: Located on Peak 9, just off the top of the QuickSilver SuperChair and easily accessed by skiers and riders on Peak 10.
The Overlook
Known for it's ramen bowls, The Overlook offers warm and inviting meals along with a vibrant and welcoming atmosphere for guests looking to take a break from the exciting intermediate and advanced terrain on Peak 9.
Location: Located near the top of Peak 9, The Overlook is easily accessible by four different chairlifts, the Mercury SuperChair, the Beaver Run SuperChair, E Chair and C Chair.
The Maggie
A local's favorite, The Maggie is the place to be from first chair to après. Offering breakfast options, including the Waffle Shop, fast-casual meals and a full-service bar with a lively après scene to end your ski day.
Location: At the base of Peak 9 and the QuickSilver SuperChair. Conveniently located just steps from the slopes, Main Street and town parking lots such as F Lot.
Other Resort Restaurants
9600 Kitchen
The 9600 Kitchen is a chef-inspired American bistro, using fresh and local ingredients. Serving hearty, traditional dishes in a contemporary casual environment, the 9600 Kitchen chefs take pride in crafting every dish from scratch. The bar's talented mixologist will surprise you with flavors and fun in a cocktail glass as you sit by the fireplace or enjoy the mountain views from the deck.
Location: Located at the DoubleTree by Hilton Breckenridge at the base of Peak 9. Free valet parking is available.
Cabin Juice
Cabin Juice is a place where you come to swap tales and plan your next adventure. A place where you can meet anyone and spend all night telling a good story. Cabin Juice sources ingredients from small, local farms in the Front Range and Western Slope, who use sustainable practices, to fashion delicious seasonal menus.
Location: At Base of Peak 9 in Gravity Haus
Forest Lounge Bar
Forest Lounge Bar located in the Village at Breckenridge is now offering Family Meals available for pick up. This is the perfect, convenient meal option after a day on the slopes with family or friends. Choose from an Italian Family meal composed of; bolognaise over penne pasta or pesto chicken alfredo over penne pasta, accompanied by parmesan cheese, garlic bread, house salad w/ ranch & balsamic dressings and a side of hearty vegetarian ratatouille ($65). Or family sized Texas barbeque including; smoked brisket and pulled pork, accompanied by baked beans, corn on the cob, mashed potatoes & house salad w/ ranch & balsamic dressing served with white bread, sweet BBQ & Carolina BBQ sauces ($75).
Location: At 605 Park Avenue in the Village at Breckenridge.