Previous tab
Previous tab
Whether you're hungry for adventure, or just want to enjoy some relaxation, come to Breck and explore our 5 awe-inspiring peaks and historic downtown.
Paper trail maps will be available in-resort upon request.
The Making of Breck's Latest Trail Map
You know that amazingly precise, highly detailed winter trail map? It didn't come from a machine. Meet famed trail map artist James Niehues.
Read More

, opens in a new window
New this season, EpicMix Time will display a full-day forecast of lift line times allowing you to plan ahead and maximize your mountain experience. Powered by machine learning and a wealth of current and historical data, EpicMix Time lets you pick the best times for your favorite lifts all day long.
That's not all, EpicMix still provides the features you love, like interactive trail maps, grooming status, weather reports, snow totals, personal stats, terrain alerts and more!
Breck summers
Learn more about our trail system and mountain biking terrain.
Breck has a variety of zones and activities that highlight the stunningly beautiful and rich environment through Epic Discovery. Whether you have an hour or a full day, craft your day your way with a pass, add on a zip line tour, or just enjoy a scenic chair ride.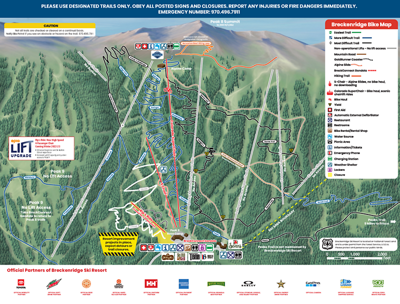 Due to the amount of snow Breckenridge receives in the winter, our trails open mid June and are typically fully open by early July. Trail openings is based on conditions and dates could change due to weather.