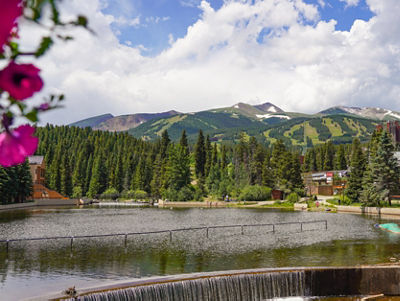 Breckenridge, Colorado is home to stunning mountain peaks, powdery white winter snow, incredible views, a world-class resort, and amazing fly fishing opportunities. Fly fishing is quite popular in and around the Breckenridge area thanks to the winding Blue River that sits alongside Breckenridge Resort. There are many places to go fly fishing near Breckenridge, with abundant opportunities to snag trout, native cutthroat, arctic char, and kokanee salmon.


Should I Use a Fly Fishing Guide in Breckenridge?
When you plan a fly fishing trip to Breckenridge, you may wonder if you need a guide for the area. The good news is that there are plenty of opportunities to hire a Breckenridge fly fishing guide on your next adventure!
Breckenridge Outfitters
,
Stonefly Angler
, and
Mountain Angler
are all experts on fly fishing in Breckenridge, Colorado.
Fly fishing guides can be helpful for providing advice on the appropriate flies, gear, and techniques to use specifically for the local area. Usually, expert anglers, and fly fishing guides in Breckenridge have fished the surrounding waters and almost always have helpful tips and tricks they're willing to share. For these reasons alone, having a fly fishing guide is always a good idea.
Do I Need a Colorado Fishing License?
Whether you're heading out on your own or with a guide, you'll need a valid
Colorado state fishing license
to go fly fishing in Breckenridge. Colorado fishing licenses are available by the day, week, or year and can be purchased online or at one of Breck's local fly fishing shops. If you're planning on applying for a license for three or more days, you will also be required to purchase a
Habitat Stamp
. These stamps are to create additional revenue for the Colorado Wildlife Department to go towards the conservation of Colorado's public lands.
Where Are the Best Places to Go Fly Fishing Near Breckenridge?
Now that you know how to plan a fly fishing trip in Breckenridge Colorado, let's dive in and discover the top five places not to miss on your next reeling adventure!
1. Blue River
If you're searching for Gold Medal Waters to drop a few lines in, look no further than to Colorado's famous Blue River. Given by the Colorado Parks and Wildlife Commission, the
Gold Metal Water certification
signifies abundant fishing and wildlife viewing opportunities in designated areas. Novice anglers will delight at the 'steps'. Located by the Breckenridge rec center, Steps is a long series of dams that create multiple plunge pools. The pools hold consistently large trout in the eight to 14 inch range.
To fish the Blue River, you must have a valid Colorado fishing license along with flies or lures only. After a full day of fishing on the water, head back and enjoy a nice meal at
BoLD Restaurant and Bar
. The eatery serves breakfast through dinner and their menu features simple staples like street tacos and charcuterie boards to more elevated dishes like lamb meatballs and avocado linguine.
2. Sawmill Lake
Found behind the Breckenridge Outdoor Education Center you can find
Sawmill Lake
. This delightful small lake, easily accessible from the center of town, is stocked with tons of brown and rainbow trout that's perfect for a midday Breckenridge fly fishing trip. Anglers must be a minimum of 16 years of age and hold a valid Colorado fishing license to set a line. In addition to fly fishing, wading, shore, and boat fishing are also permitted on the lake.
3. Maggie Pond
Another mountain lake gem in Breck that's perfect for fly fishing is
Maggie Pond
. Located alongside the Warrior's Mark Trailhead and behind the Quicksilver Superchair is a small, trout-stocked pond that's a perfect spot for a quiet Breckenridge fly fishing getaway. Grab your rod and fly box and head to the shore to try your luck. Like Sawmill Lake, Maggie Pond is open to anglers aged 16 and older with valid fishing licenses.
The central location of Maggie Pond makes it easy to do a bit of shopping or dining once you're finished up for the day. Several local Breck eateries are within walking distance as are mixed-use hiking trails for another fun outdoor activity. For those looking for alternatives on the water, Maggie Pond permits the use of standup paddle boards.
4. Eagle River
Outside of Breck Resort, you can find even more opportunities for great Breckenridge fly fishing. The
Eagle River
is a short drive from the resort along Interstate 70. At over 7,000 feet in elevation, this stunning river is packed with a variety of trout species. From Dowd Junction West to Wolcott, there are many well-marked public access points. For the best chance of scoring a big one, fish during the spring and fall seasons when the trout are more active.
5. Colorado River
No Breckenridge, CO fly fishing trip would be complete without throwing in a line at the
Colorado River
, one of the most popular Breckenridge fly fishing locations. Fly fishing on the Colorado River near Breckenridge offers anglers a captivating experience amidst breathtaking scenery. Access points at or near Breckenridge Ski Resort, such as the Blue River or Gold Medal Water, provide convenient entry to this watery paradise.
To ensure a successful outing, you should be aware of bait and lure regulations. The
Colorado Division of Wildlife
mandates the use of artificial flies or lures with single hooks, promoting catch-and-release practices. Float trips on the Colorado are a popular choice for exploring the river's diverse stretches, providing opportunities to navigate different sections and target various fish species. Whether wading or floating, the Colorado River promises unforgettable fly fishing adventures near Breckenridge.
Ready to Plan Your Ultimate Breck Fly Fishing Trip?
Now that you know where to go and how to snag the best Breckenridge fly fishing spots, it's time to plan your ultimate Breck fishing trip. It's easy to do when you book with
Vail Resorts
. Our world-class ski resort is famous for its stunning ski and snowboarding runs, as well as pristine mountain lakes that are perfect for any fly fishing angler. Book your resort, choose from great dining options, and visit local fly fishing guides to get the scoop on all the great tips for Colorado fly fishing.