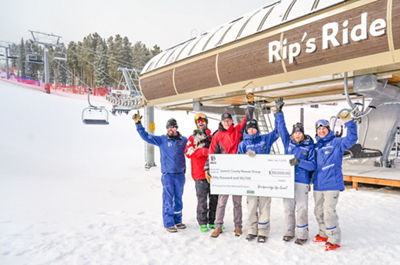 In November 2022, the newly upgraded Rip's Ride debuted on Peak 8 as a high-speed quad.
A signature learning area at the resort, the newer, faster ride provides skiers and riders with quick access to Peak 8's beginner terrain allowing for more time spent on the snow and enhancing the experience for our Ski & Snowboard School. In addition, a slight realignment to the upper terminal location now allows for easier and more convenient access to ski and ride from Rip's Ride over to Peak 9.
If you're looking for beginner terrain on Peak 8, Rip's Ride is the best place to start!
Upcylcing & Giving Back
As a part of this project, parts from the original Rip's Ride chair were upcycled and reused on the resort's 6-Chair, an effort that helps towards our company's goals of zero waste, while 85 of the former chairs were auctioned off to benefit the local community. The Rip's Ride chair auction raised more than $100,000 in total, with $50,000 going to the Summit County Rescue Group, and the remainder of the proceeds being split between the Summit Foundation and the Epic Promise Foundation.