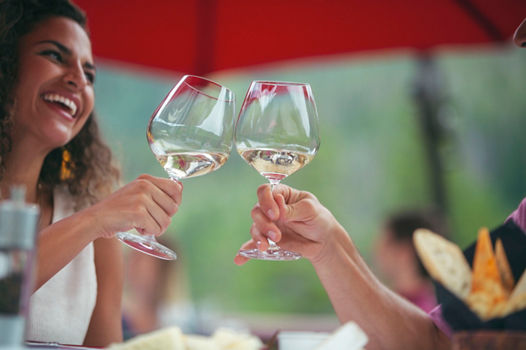 If your vacation plans include exploring Breck's excellent wine and dining scene, then check out some of the town's best wine bars and restaurants. We may be known for après brews, but our wine scene is bar-none. Think cozy little wine shops with cafe tables and cheese plates. From true aficionados to groups of friends who love to share a good bottle, there's a wine bar in Breck to suit your style.
Carboy Winery at the Gold Pan Saloon
Established in 1879, the Gold Pan Saloon isn't just the oldest bar in Breckenridge — it's the oldest drinking establishment west of the Mississippi. The saloon's continuing evolution includes building upon its rich heritage with newer ventures, such as hosting Carboy Winery. The saloon and winery share a historic Main Street storefront, but the tasting room has its own quieter, more intimate space, ideal for tastings or just sharing a glass or two with friends.
Ridge Street Wine
A true highlight of the Breck wine scene is Ridge Street Wine, tucked in an alley off Main Street. Taste hand-selects the eclectic, global offerings at this popular wine bar, available by the bottle or the glass. Alongside these excellent wines are artisanal cheeses, chocolates, and a small menu of cheese plates and panini sandwiches. The wine bar offers chocolate and wine pairings as well.
Continental Divide Winery
Continental Divide Winery is an award-winning winery tasting room on Main Street and is a must-visit wine bar in Breck. Stop in for a tasting flight or order wines by the glass or bottle or make a reservation for the unique Wine Blending Experience. This class in wine blending invites you to craft your own blend and then bottle, cork and label it to take home.
Aurum Food & Wine
This innovative farm-to-table restaurant situated just one street above Main, derives its name from the Latin word for gold and serves as a nod to Breck's mining history. But don't let its historic-themed name fool you, because this restaurant shines for its creative, modern American menu and an extensive wine list that is sorted by musical genres. From pop to jazz to bluegrass and reggae, taste a variety of genres when you grab a glass during happy hour or sit down for a fantastic dinner and bottle.
Hearthstone
Located in a Victorian-era home, Hearthstone is a classic Breck establishment serving up breathtaking views, seasonally inspired menus and an extensive wine list. Cozy up to the bar for a glass of pinot noir or celebrate a night out pairing a bottle of fine wine with naturally raised beef and game, sustainably caught seafood and great, seasonal Colorado produce
Radicato
Rooted in Italian cuisine, Radicato offers handmade pastas and a family-style dining experience. Their Italian and American focused wine list is curated by Madison Church who focuses on small, quality producers that blend modern viticulture while maintaining classic tasting profiles. Get swept away to Italy, right here in the heart of Breck.
Enjoy Great Wine in Breckenridge!
There are a lot of factors that make Breck's wine bars especially memorable. Maybe it's the mountain scenery, the high-elevation air, or the year-round good vibes. To add to these winning features, there are purveyors who know their wines and source excellent options from all over the world, including right here in Colorado. If drinking world-class wines are a feature of your ideal vacation, it's time to start planning a trip to Breck