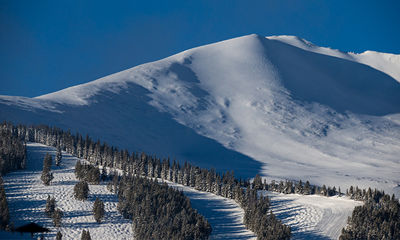 Please share this responsibility with us:
Pack it in, pack it out.
Carpool and use public transportation.
Reduce, reuse and recycle.

Awards and Recognition
2013: Xcel Energy Process Efficiency Award.
2012: Travel & Leisure global vision award for leadership in sustainability.
2008: Energy Star Award, The DoubleTree by Hilton Breckenridge.
One Ski Hill Place, A RockResort: Green Building Initiative, 3 Globe Certification.

We're continuing to do more. Here are some of the programs we support to help conserve and care for our environment:

Water

Snow is precious, not only for skiing and snowboarding, but because it is nature's way of storing water for the spring and summer. Our water management plans take protecting our water source into consideration, and our actions insure that only the cleanest, highest quality water leaves our mountains.

Breckenridge has developed a Master Drainage Plan in partnership with the USFS and Resource Engineering to create best practices, promote stream health and protect watersheds on and around the resort. In 2012, Breckenridge Ski Resort partnered with the Town of Breckenridge to fund restoration work in Upper Cucumber Gulch, a 77-acre wetlands complex in the heart of the community. The project resulted in substantial aquatic resource and wetland habitat improvements.

Energy

In 2008, Vail Resorts made a commitment to improve our energy efficiency by 10 percent. Just a few years later, we reached that goal—and then kept going. The Next 10 is our current commitment to improve by another 10 percent by 2020.

We take a comprehensive approach, looking at energy consumption across our operations with snowmaking, facilities, food and beverage, grooming, and lifts. Across the company, we've achieved a 9.4 percent improvement, and anticipate reaching the Next 10 within the year. Needless to say, we're already planning for what comes next.

Lower Energy Snowmaking Guns:
We've installed low-energy snowmaking guns that use more than 50 percent less compressed air than traditional snowmaking guns.

Lower Energy Chairlifts:
More than half of our lifts at Breckenridge have variable-frequency drive motors (VFDs) that use 30 percent less electricity than a traditional lift.

Guest Carpool Incentive:
Carpools of four or more passengers receive a $5 discount off parking rates in lots at the base of the BreckConnect gondola and at Beaver Run.

Recycling and Reuse

Across our resorts, more than 40 percent of waste is diverted through a combination of reduction, reuse, recycling and diversion. By engaging our employees and guests in this effort, we aim to reach 50 percent, with an eye on zero waste in the future.

Composting:
Recycling and composting are a required part of our operations. If a material cannot be reused, Vail Resorts recycles as much as possible to prevent items from ending up in the landfill, including scrap metal, cardboard, paper electronics, cork, glass and aluminum. Breckenridge recycles more than 350 tons per year.

Repurposed Items:
During the deconstruction of the Bergenhof restaurant to make way for a new facility, 116,000 pounds of materials were repurposed or recycled.

Smart purchasing:
We analyze our purchasing efforts and work with our teams and guests to minimize the waste created in our daily operations.

Reusable Community Coffee Mugs:
To start every ski and snowboard season (for the past 10 plus years), we host an event called "Wake Up Breckenridge," where we give reusable coffee mugs to locals at Breckenridge coffee shops for free.

Forests, Habitats and Wildlife

We want to make sure we are protecting and preserving the places we love to play for future generations. And we are asking our guests to join us in this effort through guest donation programs.

National Forest Foundation:
Since 2006, we've partnered with the National Forest Foundation's (NFF) Ski Conservation Fund to raise money for on-the-ground conservation efforts such as trail restoration and reforestation in our community. Through a voluntary guest donation program, our guests are invited to contribute $1 on a variety of resort activities and amenities, to which the NFF matches 50 cents for every guest dollar donated.

Forest Restoration (Hayman Project):
We entered into a groundbreaking public/private partnership with the USFS to restore and rejuvenate the forest habitat devastated by 2002's Hayman Fire in Colorado.

Mountain Pine Beetle:
We've been working with the Town of Breckenridge, as well as the USFS to control the spread of mountain pine beetles to lodgepole pine trees. You might see the brown lodgepole pine trees or groves of trees cut throughout the region. This is part of the work to prevent the infestation and to provide wildfire mitigation for our community.

Tree Planting:
Our Breckenridge Trail Crew has planted thousands of tree seedlings to help diversify the types of trees and to re-forest certain areas.

Community Support

We support our local community through partnerships and financial support with local organizations, conservation projects and nonprofit organizations.

Volunteering is in our DNA. Vail Resorts employees volunteer more than 20,000 hours each year with nonprofit organizations in their local communities, including during our company-wide EpicPromise Day and our local Mountain Clean-up Day.

For more information about our community grants, visit our website.

We also invest in environmental education. Our new Epic Discovery on-mountain experiences offer opportunities to learn more about the local wildlife and ecosystem.