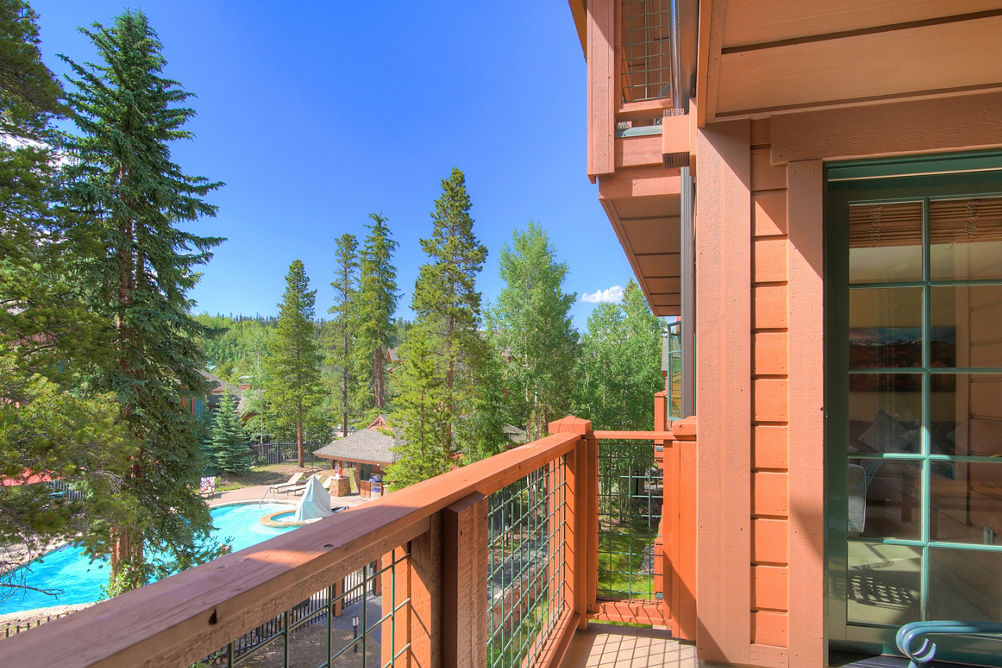 Enjoy Mountain Views Poolside this Summer
If you're looking for the best summer lodging and resorts in Breckenridge, here are some of the top places to stay when planning a summer vacation to Colorado's mountain town.
One Ski Hill Place, A RockResort: This luxury resort hotel and lodge offers elegant accommodations ranging from studios to four-bedroom condos. It has wood floors, granite countertops, and stainless-steel appliances. The luxurious lodge features scenic alpine views, and top amenities like a bowling alley, movie lounges, game room, fitness facility, aquatics center, sauna, and rejuvenation center. With a premier resort location One Ski Hill Place is conveniently located near the Fun Park on Peak 8, with easy access to town via a gondola and shuttle. This is the ultimate place to stay for family trips and vacations, with comforts and amenities for everyone.


Mountain Thunder Lodge: Located steps from the BreckConnect gondola terminus in town, this top resort lodge offers high-end lodging in various well- appointed suites and rooms. If you are looking for a hotel close to downtown this is it. Mountain Thunder Lodge features a heated outdoor pool, pool house, private balcony, multiple hot tubs, fitness facility, barbeque grills, and a children's play area. Complimentary bike storage, parking, complimentary laundry, and curbside shuttle service are also among the amenities provided.


Crystal Peak Lodge: Situated at the foot of the mountains, Crystal Peak Lodge offers luxurious one- to four-bedroom condominium suites with outstanding views in a quiet and peaceful location.

Guest amenities include fully equipped kitchens, concierge, daily housekeeping, shuttle service, and access to the nearby luxury hotel's bowling alley, indoor pools, outdoor hot tubs, movie lounges, and billiards table. It's an excellent choice for a serene and romantic summer getaway.


Gravity Haus: Gravity Haus in Breckenridge is a unique boutique hotel that shines during the summer season. With newly renovated, comfortable rooms and modern amenities, it offers a cozy, inviting and relaxed atmosphere with a variety of guestroom options. Conveniently located at the base of Peak 9 for your adventure escape. This pet friendly, mountain bike-friendly hotel has bike storage, bikes on site for guest use, fitness classes, hot and cold tubs for recovery and Outdoor Guide Services available. For co-workers there is a shared workspace to take care of business.


The Village at Breckenridge Condominiums: Offering a variety of accommodations ranging from studio to four-bedroom condominiums with full kitchens, this is the perfect family friendly hotel in Breckenridge. The Village at Breckenridge is centrally located with easy access to downtown restaurants and dining, and close to popular hiking destinations there are also outdoor pools and a newly renovated gym. These vacation condos are perfect for families and groups looking for a convenient location, amenities and ease of access to all of the things to do in Breck.


DoubleTree by Hilton Breckenridge: This hotel near downtown Breckenridge is pet-friendly and offers spacious rooms. Located a short walk from Main Street, DoubleTree by Hilton Breckenridge is close to the trails on Peak 9 and mountain bike friendly for easy adventures. The hotel features a fitness center, indoor pool, outdoor hot tubs, inviting lobby, and an on-site restaurant, the 9600 Grill.
Whatever your preferences and needs, from luxury, convenience, amenities, pet and family friendly and budget you can be sure to find the best lodging option in Breckenridge for your summer stay.