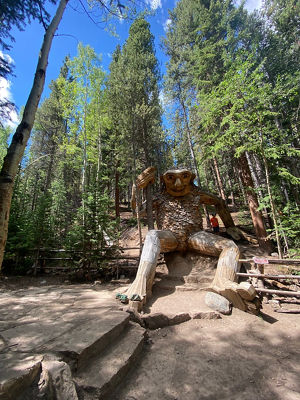 Breck is one of the most beautiful mountain towns in Colorado (dare we say the world?) and there's plenty to see starting at a base elevation of 9,600 feet (with nearby peaks hitting more than 14,000 feet above sea-level). Whether you're looking for a family-friendly stroll or wanting to bag one of Colorado's signature 14ers, check out some of our favorite and most classic can't-miss Breck trails that will give you a whole new perspective on our high alpine environment.
Trail etiquette is real for a reason. Please remember to be respectful of our home.
Leave no trace:

Take only photos and leave only footprints. Some trails do not have trash cans along the way, so make sure to keep all your trash with you until you return to town and can dispose of it properly.

Stay on the trail: Make sure to stay on the path and avoid taking short cuts to ensure little disturbance to our beautiful woods.

Do not disturb: Wildlife may appear cute, but make sure to give them plenty of space. You're in their territory, so please be respectful and kind. Do not feed wildlife as it could be dangerous for both you and the animals.

Do your homework: Are dogs allowed on trails? Do they need to be leashed? Are bikes allowed? What's the weather like and how should I dress? How long is the trail and how much water do I need to bring? Is parking available at the trailhead? Ask yourself these important questions and more to be ready to make the most out of your adventure. Use websites like

alltrails.com

and

trails.colorado.gov

to know before you go.
Trollstigen (a.k.a. Isak the Troll) – Illinois Gulch/South Illinois Creek
Distance: 0.25 miles to Troll; 0.5 miles roundtrip
Difficulty: A walk in the park
One of the most popular, and very family-friendly, Breckenridge hikes is Trollstigen featuring the famous Breck Troll, a.k.a. Isak Heartstone. Isak is a 15-foot-tall wooden troll sculpture created by Danish artist Thomas Dambo in 2018, and is located at the end of the trail. One of the coolest facts about our troll friend is that he's made completely of recycled materials!
The trail is considered an easy route, safe for children, and takes about 20 minutes to complete if you take the Trollstigen Trail. If you follow the Illinois Gulch/South Illinois Creek, it will be a longer loop. More information here.
Sawmill Reservoir
Distance: 1.5 miles
Difficulty: Easy Breezy
The Sawmill Reservoir loop is one of Breck's most popular hikes for a reason. It's an easily accessible, approachable family hike and fun as can be. You'll follow a running creek to the spectacular 10-acre lake sitting comfortably at nearly 10,000 feet of elevation. During the summer months, keep an eye out for moose who love a good high-alpine lake and make sure to keep a safe distance.
To get there, hike from the Snowflake Trailhead located on 4 O'clock Road. More information here.
Horseshoe Bowl Loop
Distance: 1 mile loop
Difficulty: Will break a sweat
A great way to experience a high alpine hike, without a lot of major elevation gain! Hop on the Colorado SuperChair (free with your 2022/23 Epic Pass) up to the resort's Alpine Camp and follow the trail signs to the beginning of the loop. At more than 11,000 feet above-sea-level, you'll be on top of the world while you take in the views of the town and surrounding mountains. You can even wave to our buddy Keystone across the horizon from up there! To make the climb even sweeter, enjoy the colorful wildflowers that blanket the mountainside during July and August. Make sure not to pick the flowers so that they can continue to come back year-after-year. More information here.
Peak 10
Distance: 7.0 miles
Difficulty: Bold
You hear a lot about 14ers in Colorado, but 13ers are just as great of an option to get those big mountain views while also finding fewer crowds than at popular 14ers. And here in Breck, Peak 10 is a classic 13er and not for the faint-of-heart! The southern-most peak of the Tenmile Range, the steep ascent will put your quads to work and reward you with views of the Mosquito Range, the Gore Range and the Front Range. Plus, get some serious bragging rights when you're headed up the lifts next winter by saying, "I've hiked up this thing!"
You can access the Peak 10 trail by starting your hike at the Crystal/Spruce Creek trailhead or take County Road 751 to The Outlook (closed for service in the summertime) to start the hike from there. More information here.
Bald Mountain (a.k.a. Baldy)
Distance: 10.5 miles
Difficulty: Very bold
Another 13er to put your legs to the test and favorite of locals in summer and winter: Bald Mountain, affectionately known as Baldy throughout town. This popular and perfect half-day hike (depending on how far you drive up the mountain) will provide you with an unbeatable view of Mt. Guyot and the surrounding peaks. But just because Baldy is a fan-favorite, don't underestimate the nearly 1,000-foot elevation gain and rocky nature of the hike.
Head up Boreas Pass Road just off of Main Street to start climbing Baldy. More information here.
Quandary
Distance: 6.75 miles
Difficulty: Extremely bold
Colorado 14ers are world famous and we're lucky enough to have one just around the corner here in Breck. Quandary offers a full day of incredible views of the Gore and Sawatch Ranges, rocky switchbacks and MOUNTAIN GOATS! Remember: these are not goat-yoga goats, please give them ample room to roam and do not feed them.
Quandary is known as an introductory 14er because it does not require any technical scrambling and for that reason is one of the most well-trafficked. Hikers will need a reservation to park at the Quandary trailhead so make sure to plan ahead. More information here.
Reminder: weather in our high alpine environment can be intense and can change quickly, and the months of July and August are known for bringing afternoon thunderstorms to the mountains. Always check the weather before heading out for your summer hike or adventure, and make sure to bring along plenty of water, snacks, sunscreen, layers and a rain jacket.
Happy trails!