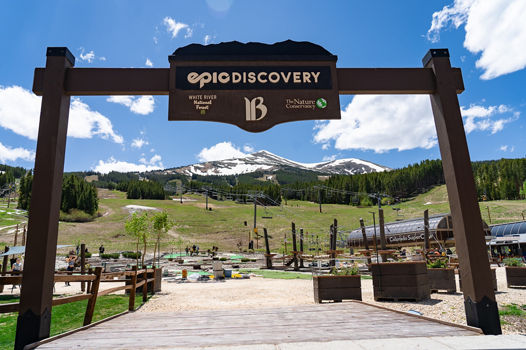 Breck's Five Peaks are the focal point of our high Rockies town, located in the beautiful Summit County of Colorado, with breathtaking views and plenty to do no matter what season. With its wide range of attractions, Breck is a perfect family vacation spot for those who want to explore nature's beauty and spend quality time together. While we're primarily known for its high alpine terrain in the wintertime, there are plenty of activities kids will love all summer long!

Are There Kids Activities in Breckenridge?

Breck has plenty to offer for families and summer is a great time to explore. From hiking, biking and so much more, here are some of the best things to do with kids in Breck:

Take the Gondola from the Town to the Mountain

One of the best things to do in Breck with kids is to take the BreckConnect Gondola from the town center to Peak 8 Mountain. The gondola ride is a great way to enjoy breathtaking views of the surrounding mountains and when you arrive at Peak 8 there will be a number of activities waiting for you. On a lucky day you and the kids can often spot wildlife on the ride. Whether it be a mountaintop lunch or a hike through our Peaks, the gondola will get you to where you need to be in style!

The BreckConnect Gondola is closed April 30-June TBD.

Epic Discovery at Breckenridge Ski Resort

Experience high alpine summer at Breck with scenic chairlift rides, mountainside activities, hiking, biking, and more open daily late-June through Labor Day. Situated above the vibrant and historic Town of Breckenridge, Breck offers numerous year-round adventures, as well as more than 200 restaurants, bars, and shops, throughout its historic downtown. Hop on the free BreckConnect Gondola to enjoy the view while you ride from town to Peak 8, where the on-mountain summer adventure begins!

Ice Skating

Even if it's not winter, you can still enjoy some ice-skating fun with the public skate sessions at the indoor Stephen C. West Ice Arena. Also, for a disco-themed throwback, you can stop by the rink for games, prizes, and more! For more information, visit the Breckenridge Recreation website.

Mountain Tops Children's Museum

The Mountain Tops Children's Museum is an excellent place for your kids to explore and learn about science and nature. It features interactive exhibits, hands-on activities, a puppet theater, and other creative activities that teach children about the environment. The museum also hosts a variety of camps throughout the year that is perfect for kids who want to explore their creativity and learn more about nature. Check out their event calendar to see if they have any special events planned! For a list of the admission prices and options, visit the museum programs page.

Visit a Historic Mine

For a truly unique experience, why not visit one of Breckenridge's historic mines? The Country Boy Mine is an old silver mine that has been turned into a tourist attraction, and you can explore the tunnels, learn about the history of Breckenridge's silver mining industry, and even pan for fool's gold. This is one of the best things to do with kids in Breck during the summer months. Admission varies depending on the length of the tour.
For other fun tours for the family in Breck, check out our full list of local Breckenridge tours.

Visit Carter Park

Located in the heart of downtown Breckenridge, Carter Park is the perfect place for kids to roam and explore. This sprawling park features a playground, picnic areas, open fields, and plenty of room for your children to run around and have fun. You can also take them to the nearby Breckenridge Recreation Center for indoor swimming or basketball.

Arts and Crafts Events

The Breckenridge Creative Arts Center holds numerous events throughout the year. These arts and crafts activities give your children a chance to be creative and express themselves. From painting classes to pottery-making, there's something for everyone! Make sure to check the event calendar to see what's going on.

The Best Kids' Activities in Breckenridge

There are plenty of summer kids' activities in Breck to create a memorable family-filled experience. From outdoor activities like hiking to indoor attractions like the Country Boy Mine, there are plenty of fun things to do in Breck with kids. With its stunning scenery, quaint mountain town feels, and endless opportunities for exploration, your family is sure to have an unforgettable experience when visiting Breck!

For more information on activities to do in Breck, contact us today.