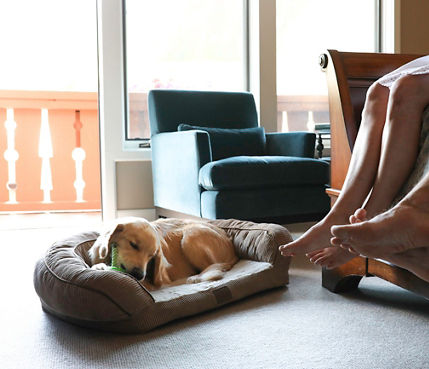 At Breckenridge, we love our dogs and know you love yours! Our furry best friends are valued members of our families, and they enjoy outdoor activities and nature's beauty just like us, right?

If you'd like to plan a trip to Breck with your dog(s), you are in luck! The open spaces, restaurants, hotels, hikes, and shops make this town ideal for you and your four-legged adventure partner. Form a strong bond with your pup and enhance your shared experiences by exploring this dog-friendly town.

Are you ready to have a paw-some time with your furry friends? Here's a comprehensive guide to Breckenridge dog-friendly restaurants, hotels, and hikes.


Breckenridge Dog-Friendly Restaurants
There's no better place than Breckenridge to enjoy summer drinks and delicious food with your loyal pup right by your side. Dining with them exposes them to diverse environments and fosters socialization skills for both of you. From casual eateries to upscale dining, there's something for every taste bud, whether human or dog. These are some of the best dog-friendly restaurants in Breckenridge.
Unravel Coffee
Unravel Coffee
, a famous dog-friendly restaurant, is located at 605 South Park Avenue. It is a local favorite among coffee lovers for its diverse coffee options and stunning interior décor. The cafe is inside the Gravity Haus Restaurant.
Kenosha

Kenosha
is a renowned dog-friendly restaurant in the heart of downtown, offering some of the best steaks, burgers, and BBQs in Breckenridge. Nothing screams ''we are dog-friendly'' more than having a dogs-only menu like the one offered at Kenosha Breck. This menu provides a dog with extra-special treatment and includes fresh popsicles, hamburger patties, and carrots. It's the perfect place to grab a light lunch or hearty meal with your furry friend.
BreckFast
Despite its name emphasizing it only offers one meal of the day,
BreckFast
is also a renowned lunch spot. The restaurant is located in La Cima Mall and serves the freshest high-quality breakfast and lunch. Its dog-friendly patio is also part of the Broken Compass Brewery, making it convenient for early beer drinking.
Breckenridge Dog-Friendly Hotels
Traveling with dogs can be stressful, especially carrying their supplies, such as bags and food. Staying in a dog-friendly hotel with amenities for your dog will make your adventure more enjoyable. Luckily, Breckenridge hotels are a haven for dog lovers since they provide everything your dogs need to feel more at home. These are some of the top-rated pet friendly hotels.
Gravity Haus Breckenridge
Located at the Base of Peak 9, the
Gravity Haus Breckenridge
is a renowned dog-friendly hotel in Breckenridge, Colorado. As soon as you arrive at this hotel, it's mandatory to sign the dog's guest book after submitting the dog's photos. You'll also need to book a dog-friendly room in advance with the hotel. The Gravity Haus hotel promises to treat your pups like royalty as soon as they enter the beautifully furnished spaces. Before embarking on an adventure here, research their dog policies and booking costs.
The Lodge at Breckenridge
The Lodge at Breckenridge
is a dog-friendly hotel located at 112 Overlook Drive. Guests traveling with their dogs to this hotel get to enjoy the "Paw-fect Getaway" special package. The package includes a pet info sheet, collapsible bag, travel bowl, and dog biscuits. Furthermore, hotel guests are provided with puppy restroom areas with trash cans and waste bags. However, they don't allow dogs near restaurants, and owners must provide a contact phone number when they leave their dogs alone in the room.
Breckenridge Dog-Friendly Hikes
If you are tired of strolling your local dog park with your pups and looking for new adventures, look no further! Breckenridge is the ideal destination for you. This mountainous town is home to hundreds of dog-friendly trail systems, from easy to challenging. Grab your leash and explore these hiking trails in Breckenridge.
The Peaks and Gluteus Minimus Trail
The Peaks and Gluteus Minimus Trail
is an 11.1-kilometer point-to-point trail that takes an average of 2 hours and 41 minutes to complete. It is a moderately difficult trail suitable for hikers of all skill levels. Hikers on this trail are graced with breathtaking views of the mountains, the perfect scenery to enjoy with your furry friends, as they are welcome here. There are, however, trail guidelines on designated areas where dogs must be leashed, so be sure you adhere to them.
Mayflower Lake and Mohawk Lakes Trail
Mayflower Lake and Mohawk Lakes Trail
is also a popular dog-friendly hiking destination. This out-and-back 12-kilometer trail is considered a moderately challenging route. During spring, the trail is adorned with a carpet of wildflowers, enhancing the already breathtaking views of its mountain meadows. Pack the necessary equipment and hike this stunning trail with your puppies, but be sure to adhere to trail regulations on dog leashing.
The McCullough Gulch Trail
The McCullough Gulch Trail
is popular for its stunning alpine scenery and wildflowers. It is situated within the White River National Forest and offers breathtaking views of the surrounding mountains. This is considered a challenging route; therefore, it is only recommended for experienced hikers. Dogs are allowed here, provided you follow all the leash regulations. Leave your dogs at home if they aren't trained hikers to avoid injuring or exhausting them.
Breckenridge Dog Traveling Etiquette
Typically, our furry friends make the best traveling companions. However, you should leave them with a dog sitter if they get anxious when away from home, as this can be stressful for them and also affect your ability to enjoy the trip. Traveling with them can also be difficult, but only if you don't plan accordingly. This section discusses tips and guidelines for traveling to Breckenridge with your dog to ensure you both have a safe and enjoyable trip.
1. Adhere to Breck's leash laws.
The
Breck community leash laws
require that dogs be kept on a leash not over 6 feet long and under the control of a competent person when off the owner's property.
2. Make reservations for your dog.
When booking your hotel, research the dog-friendly ones and contact them to inquire about extra charges incurred for your dog. Never try to sneak your canine into a hotel with pet restriction policies, as it may lead to being kicked out or fined.
3. Ensure your dog is properly identified.
Not everyone knows your dog. This makes it difficult to locate them if they are out of your vicinity. Make sure your dog has proper identification, such as a microchip or collar with an ID tag. This increases the chances of finding your dog if they stray from you during the trip.
4. Prepare for your dog's needs:
Pack all your dog's essentials, including water, food, and medications if they take any. This will ensure your dog is comfortable during the trip. Moreover, please inquire with the hotels you'll be staying at about the dog treats they offer in case your dog might be allergic to some of them.
Bring Your Dog for a Memorable Trip at Breckenridge Mountain Resort
Breckenridge Resort is located in a beautiful mountain town in Colorado that offers a wide range of dog-friendly restaurants, hotels, and hikes. Whether you're looking for a delicious meal with your furry friend by your side, a comfortable place to stay, or a scenic hike, there's something for every dog owner here.
Plan your next adventure with your dog
to Breckenridge and explore all this area has to offer!