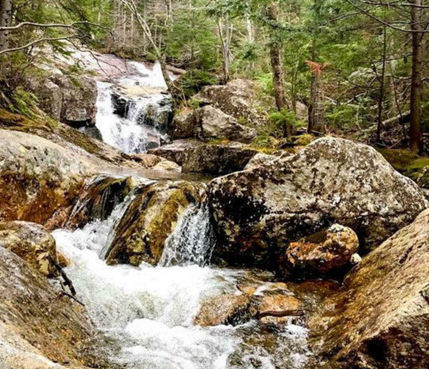 When waterfalls come to mind, people often think of Niagara Falls or the cascading streams of Hot Springs. However, multiple waterfalls near Breckenridge would give these tourist spots a run for their money. The best hikes with waterfalls near Breckenridge offer sweet views of seasonal wildflowers, picturesque lakes, adorable wildlife, and of course, cascading waterfalls. Dancing sun rays reflect on these roaring wonders providing a kaleidoscope of colors and textures, each calling out to be photographed.

We've trekked through these winding trails more times than we can count, and we're still just as amazed as the first time. Our favorite scenic waterfalls near Breckenridge are Continental Falls, White Falls, and Blue Lakes Falls.

Spruce Creek Trails

The majestic peaks of Breckenridge are breathtaking, like the backdrop of a Bob Ross oil painting. Nestled amidst the peaks is a crystalline oasis known as Continental Falls.

The lead-up to Continental Falls is one of the best hikes, with waterfalls near Breckenridge. At an elevation gain of 1000+ feet and a distance of two and a half miles, reaching it takes a fair bit of effort, but it's worth the climb. To get started, follow the Spruce Creek Trail. Blue diamond blazes mark this trail, so it's easy to follow without getting lost.

Grab some shade along the hike beneath one of many towering pine trees. These trees offer a sweet aroma that mixes perfectly with the wildflowers in the area. There are also plenty of creeks along the way, with ample places to rest while you listen to their hypnotic soundtrack.

Once you reach the top of Continental Falls, you'll notice several viewing areas and a few picnic spots. Here, you can spread out a blanket and enjoy artistry in motion. To get to Continental Falls, head out CO-9 S from Breck Ski Resort for 13.1 miles.

McCullough Gulch Trail

McCullough Gulch Trails is a 6.4-mile trek beginning at the northern wall of the gulch that moves west.

Along this trail, your eyes are drawn in every direction as ancient spruce trees cast their reflections on the water below. The shade from these trees offers a light sanctuary for delicate wildflowers along the forest floor. Depending on the time of year, you might also spot an elk or two as you look around.

Continuing along the path, you'll notice a small side trail leading left, taking you to the glistening White Falls. This 30 to 40-foot waterfall is a little past Mohawk, nestled snuggly in the McCullough Gulch.

Walking past the falls, the trek intensifies as the elevation increases. Luckily, the nearby

To access this trail, look exactly opposite Lodge by the Blue, seven miles south of Breckenridge. This trail starts off very wooded before revealing an old road leading to McCullough Gulch. There isn't any parking in the area, so you must request a reservation or take the Quandary shuttle from town.

Blue Lakes Falls

Last but not least, we present the stunning Blue Lakes waterfalls near Breckenridge.

Blue Lakes Falls is located one valley from McCullough Gulch and just to the side of Quandary Peak in Monte Cristo Gulch. The walk downhill towards the lake uncovers old mining structures and multiple social trails, each offering an adventure of its own. Heading right reveals the waterfall's base and large, sculpted rocks, allowing you to climb to the top.

Aside from wildflower meadows that provide patches of color between the Blue Lakes, it isn't unusual to see a few grazing goats and their kids along your journey. Rocks in the area also provide a suitable playground for local marmots and pikas.

Blue Lakes waterfalls have less water than the previous two, so visiting this area after a good rain or snowmelt is best to get the full experience. Although Blue Lakes waterfalls are a notable mention, there are multiple waterfalls in Monte Cristo Gulch worth visiting.

Blue Lakes Falls is the perfect quick getaway as it has virtually zero elevation gain and is just under a mile's trek from the parking area at the lower lake. To get here, from Blue Lakes Road, go straight past McCullough Gulch to Monte Cristo Creek. You will see the granite cliffs and a small waterfall as you get closer.

North Tenmile Trail

North Tenmile Trail, named after Tenmile Creek, is an awe-inspiring trek that immerses its visitors in a sensory-heightened experience. This path has a variety of terrain, starting as a well-kept path leading to rugged terrain.

Beginning at the trailhead, this path winds through a towering forest. These trees are home to exotic birds like the Pine Grosbeak, Mountain Chickadee, and Pygmy Nuthatches, who serenade you along the trail.

As you forge on, the trail picks up in intensity and splendor. As far as you can see, there are stunning vistas of verdant valleys and mountain peaks — not to mention the much-anticipated Tenmile Creek and a stunning waterfall. This is the point where a camera comes in handy. This area is infused with creeks and small falls offering droplets to nearby patches of wildflowers along the forest floor.

North Tenmile Trail is a great trek whether you're an experienced hiker or a beginner. To get there from Breck Ski Resort, take CO-9 North from Ski Hill Road, then turn left onto Main Street. Drive for 1-mile until you reach the dirt parking lot.

Willow Creek Falls

Once you've had a little fun at Breck Ski Resort, we recommend taking a short drive to Willow Creek Falls. Although this is the most challenging trail of the five mentioned, it is also the most adventurous.

South Willow Creek Trail features miles of rocky terrain surrounded by patches of wildflowers and lush greenery. At the right time of day, the sun glistens off the falls, resembling shimmering crystals tumbling down the rocky cliffs. The meadows surrounding the falls are peppered with wildflowers, moss, and various plant life to add even more splendor.

Willow Creek Falls is located along a 2.25-mile winding trail beginning at Silverthorne. This challenging route is very popular amongst hikers, bird-watchers, and adventurers alike.

Note: this one-of-a-kind adventure takes nearly 2 hours and 30 minutes to complete, so pack a light lunch and plenty of water.

Take the Summit bus to get here from the Breck Ski Resort, as parking near the trailhead is limited. For even more falls, follow Gore Range Trail No. 60.


Plan Your Visit
We hope you enjoyed the journey through some of the best hikes with waterfalls near Breckenridge. If you're an out-of-towner looking to stay for a bit and tour around, consider staying at a
Breck Resort
property like Mountain Ridge Lodge with premium amenities.
It's time to strap on the hiking boots and carve out an adventure of your own! We'll see you there!