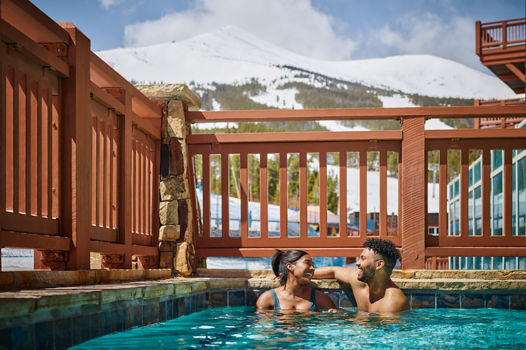 Is Breck romantic? Absolutely! This charming mountain town is the perfect place to enjoy some quality time together. From exploring the great outdoors to indulging in some delicious food and drink, there's something for everyone. Here are some date ideas in Breck to help you impress that new cutie or your beloved.
Outdoor Date Ideas near Breck
Take A Scenic Hike
There are plenty of beautiful hiking trails to explore in Breckenridge. It's the perfect way to get some fresh air and spend some quality time together.

For an easy-to-moderate hike full of scenic views and great conversation, try Horseshoe Bowl Loop on our resort property or the Trollstigen Trail to visit the Troll.

For a very difficult, advanced hike, try the Spruce Creek Trail, often referred to as Mohawk Lakes, which takes you through a secluded forest and ends at a picturesque waterfall.

Couples can still enjoy Breck's beautiful trails in winter. Head to the Breckenridge Nordic Center to rent some snowshoes or take a guided tour together.

Go Ice Skating

Ice skating is always a fun dating idea, and it's even better in the middle of winter. Breckenridge has a few excellent ice skating spots to choose from, such as Maggie Pond or Stephen C. West Ice Arena.

Cuddle Up on a Horse-Drawn Sleigh Ride

There's something about a horse-drawn sleigh ride that just screams "nostalgia." Maybe it's the appeal of a bygone era or the chance to cuddle up with a loved one under a blanket while taking in the snow-covered scenery. Whatever the case, there's no denying that sleigh rides are a quintessential winter activity. And Breckenridge is the perfect place to enjoy one. With many options available, you can choose your own adventure, whether it's a scenic ride through the mountains or a dinner sleigh ride complete with gourmet food and wine. Either way, you're sure to create some cherished memories.

Go Skiing

Skiing is a great way to have fun and get some exercise, and Breckenridge is the perfect place to do it. The slopes are well-groomed, and the views are stunning. And, of course, there's nothing like skiing together and then cozying up by the fire afterward. Whether you're a beginner or an expert, you'll find plenty of trails to suit your level of ability. For more advanced skiers and snowboarders, get on the Imperial Express, the highest chairlift in North America. Not only will you get some stunning views of the Rockies, but you'll also get a bit of an adrenalin rush as you ascend to over 12,000 feet.

Go Stargazing

One of the best date ideas for couples is enjoying the clear night sky. Be sure to take advantage of it by going stargazing with your significant other. You'll be amazed at how many stars you can see away from the city lights!
Pro tip: Pack some hot chocolate and blankets to keep you warm while you stargaze. In summer, try a picnic basket with sweet treats and wine.

Scenic Gondola and Chairlift Rides

The gondola ride up from town takes about 10 minutes. Sit back and enjoy the view as you rise almost 400 feet in elevation - you'll get a great view of the town below and the Cucumber Wildlife Preserve. Once you reach Peak 8, you can explore the base area's restaurants and on-mountain activities. Scenic chairlift rides are a great way to enjoy Breck's alpine views.


Indoor Date Ideas near Breck
Try the Local Wine and Beer

What could be more romantic than enjoying a glass of wine together while taking in views of the Rocky Mountains? Breckenridge is home to several excellent wineries, such as the
Continental Divide Winery
and the
Carboy Winery
, so be sure to visit at least one during your stay. Visit a Local Brewery
For those who prefer beer, there are plenty of local breweries to choose from, including
Breckenridge Brewery
. Stop by one of Breckenridge's top-rated brewpubs and sample their unique concoctions. Enjoy a flight or order a pint for each of you. It's the perfect way to end your date night!
Book a Spa Date

For a truly luxurious experience, book yourselves a couples massage at one of
Breckenridge's spas
. It'll be the perfect way to relax after a long day of skiing or snowboarding, and it'll undoubtedly leave you feeling refreshed and rejuvenated.
Relax in Luxury: Romantic Accommodations

Does it get more romantic that snuggling up by the fire after a full day of skiing, snowboarding, or exploring? There are plenty of places to do just that in Breckenridge. For example, at
One Ski Hill Place
. This resort features an aquatics center with two indoor pools, an indoor hot tub, an outdoor hot tub, and a fire pit.
There's nothing quite like soaking in a hot tub after a day on the slopes. Relax in the warm water and enjoy the beautiful snow-covered mountains all around you. Many of the resorts provide hot tub access, including
Mountain Thunder Lodge
, so be sure to book accordingly.
Eat at One of Breckenridge's Date Night Restaurants

No romantic getaway would be complete without a special dinner for two. Luckily, Breckenridge has no shortage of excellent restaurants to choose from. For something truly special, reserve a table at great, intimate locations like
Aurum
,
Ember
or
Twist
.
Explore Main Street

For a classic winter date night, explore the shops and restaurants of Breckenridge's iconic
Main Street
. There are plenty of great places to grab a bite to eat or do some window shopping. And you can also check out one of the many local galleries in town for some unique art finds.
Beautiful Breckenridge
With so much to do, Breckenridge is the perfect place for a fun-filled day or romantic getaway. From scenic hikes to cozy fireside chats, there's something for everyone in this charming mountain town. Use this list of fun date ideas as inspiration for planning the perfect trip.