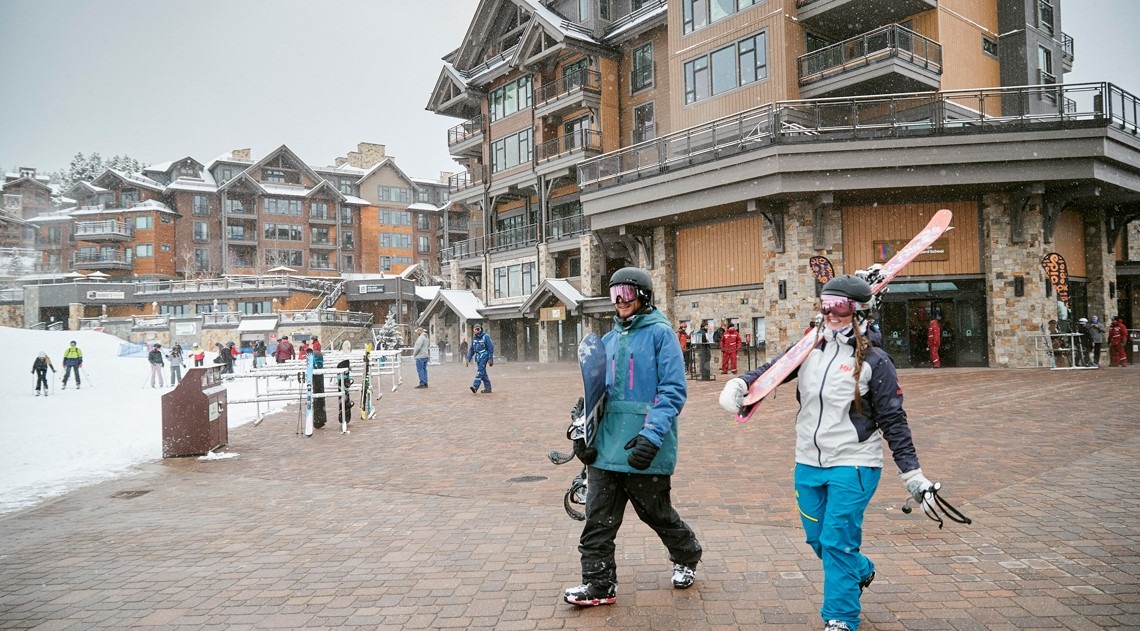 Posted on Oct. 17, 2022
So, it's your first time to Breck? Well, lucky you! We may be biased, but we think you'll find that Breck is a pretty special place and hope that this visit won't be your last. And, even if it's not your first time, we think the below information should still be helpful.
Formally known as Breckenridge, but affectionately known as 'Breck' to locals and visitors alike, our vibrant mountain destination offers a serious dose of high alpine adventure and ski town charm.
Here are some of the top things you should know ahead of your visit:
Five Peaks
As you first make your way into town, it's impossible to miss Breck's massive Five Peaks cutting into the skyline. Part of the Rocky Mountain's Ten Mile Range, Breck is comprised of Peaks 6, 7, 8, 9 and 10, spanning from North to South. In winter, Breck's Five Peaks are home to more than 180 trails for skiing and riding, plus a whole bunch of take-your-breath-away, above-treeline terrain that offer views for days. In summer, Peak 8 is the hub of the resort's Epic Discovery adventure activities featuring climbing walls, ropes courses and our popular alpine slides.
Three Base Areas
Breck boasts three main base areas at Peaks 7, 8 and 9, serving as your primary access points to the ski area. Peak 9 and the Quicksilver SuperChair are a hop, skip and a jump from town, so this is a great place to start if you're staying or parking on the southside of Town (if you're a little farther than walking distance though, the free bus can easily get you there, too!). Peak 9 is also the best learning area on the mountain, so it is the perfect place to go if you're just starting out or taking ski school. Peak 8 base area is the heart of the resort and our biggest and most popular base area - everything you need is in one place, and it's accessible via the free BreckConnect Gondola from Town. Lastly, Peak 7 is our smallest base area but a great option for those that are ready to hit the mountain (if you still need a lift ticket or equipment rentals, we have those here, too). Also accessed by the free BreckConnect Gondola, and just one stop before the Peak 8 base area, Peak 7 is a great place to start for intermediate-and-above level skiers and riders (there is no beginner terrain over here), and it provides quick access to the Tbar and Peak 6 for some high alpine action. Our handy guide on where to ski in Breckenridge covers how to access each peak and what types of terrain you can can find.
Ski-In, Ski-Out Mountain Town
With an abundance of slopeside lodging accommodations, ski-to-town trails and the BreckConnect Gondola, the connection between mountain and town is seamless. It's like the entire town of Breck is practically ski-in, ski-out. Where else in the world can you ski from the top of North America's highest chairlift and directly into town for après!? The best ways to ski directly into Town include, any of the trails that take you to the Peak 9 base area; 4 O'Clock to Lower 4'Oclock to Lowest 4 O'Clock; and Lower 4 O'Clock to the Gondola Ski Back trail. For more specifics on Ski-To-Town options, check out why Breck is the best ski-In, ski-out mountain town.
Main Street
Charming and historic, Breckenridge Main Street runs directly through the center of town, with the ski area's Five Peaks serving as its backdrop. With candy-colored Victorian buildings and more than 200 shops and restaurants lining the street, it offers the perfect opportunity to eat, drink and be merry after a day on the slopes. From quick burgers and tacos, to local breweries and distilleries, to no fuss fine-dining, Breck's culinary scene is one that should not be missed. And, if you're not too tired from your day's adventures, Breck's vibrant night-life can take you well into the midnight hour with bars, dancing and live music.
Ditch the Car
With a variety of transportation options, including many that are free, and a pedestrian-friendly downtown, there is no need for a car when you visit Breck. Shuttles like the Epic Mountain Express can take you from the airport directly to the door of wherever you're staying in town. Many places are located within easy walking distance of Main Street, but if you're a little further away or just want to give your legs a rest, the Breck FreeRide (note the FREE part!) bus system is a great and convenient way to get around during your stay. In addition, with the BreckConnect Gondola, the connection between mountain and town is seamless, providing additional free transportation between the ski area and downtown. If you are driving to visit us though, then we recommend checking GoI70.com for the latest winter driving tips, road conditions and carpool options.
Lastly, and maybe one of the most important things to remember before your visit to Breck, is to book in advance - everything from lodging, lift tickets, ski school, rentals, and restaurant reservations. BONUS! Advanced reservations almost always give you the edge when it comes to your wallet, as well as peace of mind that can allow you to enjoy your time on the ground even more!
Breck is a popular and bustling mountain destination, which is a huge part of what makes it such an exciting and fun place to visit. We like to say that you don't come to Breck to get away from it all, you come here to be a part of it all with us. And, we can't wait to see you here soon!