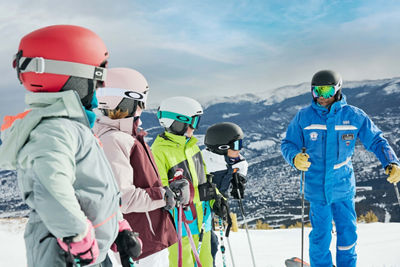 Learning to Ski? Here's What to Know
First time skiing? You may be wondering, is skiing easy? Truthfully, it takes time to learn and become an expert, but skiing is an exciting sport at any level. At Breckenridge, we offer a Green Run Guarantee to help beginners level up their skills rapidly. You'll be able to ski or snowboard a qualified green run within three lessons, or your fourth lesson is free.

It can be anxiety-inducing to strap your feet to a pair of slippery skis and head for the hills, but once you get the hang of it, you'll have plenty of fun. We have a range of ski experiences at Breck for all levels, so you're bound to enjoy it. Let's look closely at what to expect from your first time.

Take Lessons from a Pro

A professional ski instructor will help you start off with good form and teach the tools you need to progress to new terrain. They're trained to watch for bad habits and can often stop severe problems from occurring before they start.

Expect to Fall Down

Falling is to be expected, but you should plan to take regular breaks to warm up after a few falls. Be sure to talk to your instructor about how to fall properly. This is important if you want to avoid injuries, which are more common in those first few days.

Ski Boots Will Stretch Your Muscles

After a few hours in ski boots, your body will recognize muscles you never knew you had. You may want to stick to just a half day in the beginning, to get used to the unique angle and stretch. It's certainly a different feeling, but your body will limber up as you spend more time skiing. Soon with practice, you'll be flying down all five mountains at Breckenridge.

Your Gear Matters

Knowing that you'll end up in the powder pretty often, it's helpful to use the right gear. Eye protection and a helmet will help prevent facial and head injuries. Weatherproof gear can keep you from getting too soaked after a stint in the snow. It's also best if your gear fits properly, whether it's yours, borrowed, or rented. Loose-fitting boots, for example, can cause you to fall or lose your balance more often.

You'll Be in the Beginner's Section

New skiers need to start slow, using the bunny slopes or the gentlest hills. Even these can seem scary if it's your first time, but size matters when it comes to skiing, so stick to the easy hills in the beginning. You'll have a chance to test the gear and learn the basics without worrying about flying down the mountain.

Ski Hills Have More to Offer

You may not realize just how much there is to do at a ski resort. Take Breckenridge, for example. Here, you can not only take skiing lessons, but you can also test out five different mountains as you improve your skills. You can ski down to Main Street if you're inclined. Add to this the fun at the lodge, and you have the perfect Colorado resort for fun.

Breck also provides adventures aside from the actual ski slopes. Take a break from learning to ski, watch one of the many races hosted here, or take in the history at one of the towns historic restaurants. There are also winter festivals, historical tours, museums, and a fantastic gondola trip from town to the mountain's base.

Don't get stuck on just learning to ski. Enjoy everything that's on offer.


Commonly Asked Questions About Learning to Ski
The following questions are frequently asked by those considering trying their hand, er, foot, at skiing.

Is Skiing Easy to Learn?
Yes, skiing is easy to learn. With proper instruction, most people can learn to ski in a few days. However, it takes time and practice to become a skilled skier. With a little time and effort, anyone can learn to ski.
Here are some tips for learning to ski:
Take lessons from a qualified instructor.
Start on easy slopes and progress to more difficult ones as you become more comfortable.
Practice regularly.
Be patient and don't give up.
At What Age Do Most People Learn to Ski?

Most ski schools recommend starting children skiing between the ages of 3 and 5. At this age, children are still young and have a natural sense of balance, but they are also old enough to follow instructions and understand the basics of skiing.
However, if you are worried if you are old to learn to ski, there is no age limit to skiing, and people of all ages can enjoy the sport. In fact, there are many advantages to learning to ski as an adult. Adults tend to be more patient and focused learners, and they are also more likely to be able to afford the equipment and lessons that are necessary to learn to ski.
Hitting the slopes at any age is a fun, healthy activity. You'll just need to put in the work to learn. Breckenridge offers private lessons with expert instructors for beginners to advanced skiers. You're never too old to learn and enjoy something new. Choose from group or individual learning to develop new techniques with adult ski or snowboard lessons.
Do Beginner Skiers Fall a Lot?
Yes, beginner skiers fall a lot. It is a part of learning to ski. The more you ski, the less you will fall. But even experienced skiers fall sometimes.
The important thing is to not give up. If you fall, get back up and try again. And always wear a helmet!