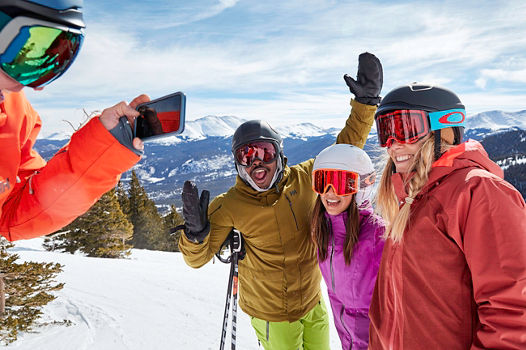 Nestled in the Rocky Mountains, Breckenridge is one of Colorado's most popular ski resorts. A little town with big personality and quaint ski lodge vibes make it the perfect place to enjoy a winter getaway.
Known for sweeping mountain views, incredible skiing and après-ski scene, Breckenridge is a true winter wonderland. From an impressive array of shops, restaurants, and bars and charming town to it's expansive ski terrain, consistent snowfall, and one of a kind high altitude experience, a visit should top anyone's list of Colorado's best winter destinations.
When planning a winter ski trip to Colorado, here are nine reasons Breckenridge is a popular choice.
1. World-Class Skiing & Snowboarding
Breckenridge offers world-class
skiing and snowboarding
. With a ton of trails spread across
Five Peaks
, there's something for everyone – from gentle slopes ideal for
learning to ski
to challenging runs that will test even the most experienced skiers. So whether someone is looking to take in some breathtaking views or hit the slopes for some adrenaline-pumping action, Breckenridge is the place to be.
2. The Views
When it comes to alpine views, Breckenridge is hard to beat. Soaring peaks and pristine valleys surround this vibrant ski town. Even visitors who are not fans of cold weather will appreciate the natural beauty of this place.
3. Premier Après Ski Scene
Skiing is a demanding sport. It takes a lot of energy and concentration to navigate down a snow-covered mountain. That's why it's so important to have a place to relax and let loose after a long day on the slopes. And that's where Breckenridge comes in. This world-famous ski resort is located in the heart of Colorado's Rocky Mountains, and it's known for its lively après scene. For visitors looking for a cozy bar to warm up in, local breweries and craft beer, live music or a DJ to dance the night away, Breckenridge has plenty of
après options
.
4. An Authentic Mountain Town
Charming and historic, Main Street runs directly through the center of town, with the ski area's Five Peaks serving as its backdrop. With candy-colored Victorian buildings and more than 200 shops and restaurants lining the street, it offers the perfect opportunity to eat, drink and be merry after a day on the slopes. From quick burgers and tacos, to local breweries and distilleries, to no fuss fine-dining and
historic restaurants
, Breck's culinary scene is one that should not be missed. And, if you're not too tired from your day's adventures, Breck's vibrant nightlife can take you well into the midnight hour with bars, dancing and live music.
5. Off-the-Slopes Action
Winter is the perfect time to
enjoy the great outdoors in Breckenridge
. Visitors can ice skate at the Stephen C West Ice Arena or explore the trails around Breckenridge for some snowshoeing adventures or world class
scenic hike
. People looking for even more excitement should try tubing at nearby Keystone Resort, another resort on the
Epic Pass
. Imagine zipping down the slopes in an inflatable tube, enjoying the thrill of the ride and the stunning views.
6. Fun Filled Events


What really sets Breckenridge apart from other resorts is its commitment to hosting a wide variety of fun events. From live music and DJs to rail jams and pond skims, there's something for everyone in
Breck's events lineup
. And with stunning views of the Rockies, everyone will indeed have an unforgettable experience.
7.Ski-in/Ski-out Mountain Town
8. The Imperial Super Chair
Skiing is already an incredibly exhilarating experience. But it becomes even more so when taking the highest chairlift in North America. At Breckenridge, experienced skiers can take the Imperial Express Super Chair to summit 12,840 feet above sea level. From there, they can enjoy stunning views of the Rocky Mountains before carving their way down one of the resort's signature high alpine terrain.
9. The Camaraderie
What really sets Breckenridge apart from other ski resorts is the camaraderie that can be found both on and off the slopes. This means that visitors will feel part of the community when enjoying an après-ski cocktail at one of the many local pubs or taking in the stunning mountain views from their condo. And when it comes time to hit the slopes, they'll find that the same friendly atmosphere extends to the lifts and runs. With its welcoming vibe and stellar skiing, it's no wonder Breckenridge is one of the most popular ski resorts in Colorado.
Breckenridge Ski Resort has something for everyone. From world-class skiing and snowboarding to a vibrant après ski scene, this idyllic mountain town is one of the most fun ski resorts in Colorado! So don't miss out;
plan a trip to Breckenridge
today and discover for yourself what makes Breckenridge one of the best all around ski destinations.