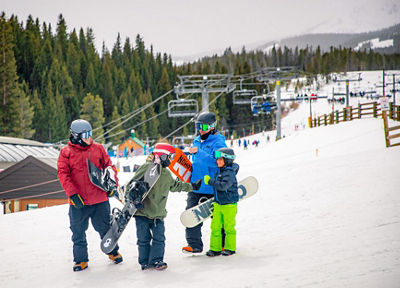 Why Breckenridge Is a Great Choice for Beginners
Going skiing for the first time can be a little nerve-wracking. After all, it involves strapping two pieces of wood to your feet and hurtling down a slope of snow and ice. However, despite all the potential hazards, skiing is actually a lot of fun. Once you get over the nerves and master the basic techniques, you'll be able to enjoy the exhilarating feeling of gliding down a snow-covered slope.
Something about the combination of the fresh air, the endorphins, and the sense of freedom makes it addictive. Plus, after a long day on the slopes, there's nothing better than soaking in a hot tub or sitting by a roaring fire with a glass of mulled wine. Add in some fabulous food, and you have all the ingredients for a perfect winter vacation.
If you're a beginner, you want a resort that is beginner-friendly but also has enough to keep you entertained once you've mastered the basics. That's why Breckenridge is the best Colorado ski resort for beginners.
Is Breckenridge Good for Beginners?
When asking the question, "Is Breckenridge good for beginners?" the answer is a resounding yes! We'll cover the reasons why in more detail later, but first, let's take a look at the resort itself.
Breckenridge is located in Summit County, Colorado, and is one of North America's top ski resorts. It sits on over 2,900 acres of skiable terrain with 187 trails for all levels of skiers to enjoy. There are five peaks with varying terrain, and this makes it the perfect place for beginners to learn. The base elevation is 9,600 feet, and there are lifts that take you up to 12,998 feet. This means there's plenty of powdery snow, even in late spring. There are also plenty of non-ski activities, such as snowshoeing, snowmobiling, and dog sledding.
5 Unique Peaks
At Breckenridge, we work with everyone from first-timers to expert-level skiers and boarders. We have
five different mountains
with so much to explore — that's five peaks of adventure!
Where Do Beginners Ski at Breckenridge?
If you're looking to
learn how to ski or ride
, there's no better place to start than
Peak 9
. With its mellow learning areas and beginner slopes, it's the perfect place to get your feet wet (or covered in snow). And when you're ready to progress to intermediate terrain, there's plenty of that to be found on the upper half of the mountain. Peak 9 is also incredibly close to downtown Breckenridge, so it's easy to get to and from the mountain.
Here are some places for beginners to ski in Breckenridge
Peak 8 and Peak 9: These are main beginner skiing zones, with plenty of gentle green runs.
Peak 9: Considered the best area to learn how to ski, with a designated learning areas and beginner slopes
Four O'Clock trail: Accessed from Peak 8, this is the longest run at Breckenridge, with 3.5 miles of groomed blue-to-green terrain, and perfect for families who have some experience.
Quicksilver Superchair: This lift on Peak 9 keeps you in the beginner area with many easy green runs
Rips Ride Chairlift: Easily accessed form the popular Peak 8 base area, this will get you onto beginner terrain the fastest.
Our Stellar Guest Services Team
The reality is that skiing can be intimidating, especially if it's the first time. Beginners don't want to spend all day on the mountain lost or frustrated because they don't know where to go or what to do. At Breckenridge, Guest Services will ensure you have everything you need to make the most of your time on the mountain. From directions and suggestions to tips about town, our guest services representatives are always happy to help. Plus, it's always easy to locate our Guest Services team members. Just look for someone wearing the distinctive red uniform with an "i" for information on their back.
It's Close to Town
Breckenridge is known to be one of the best beginner ski resorts because of its close connection from the peaks to the historic mountain town. The base area of the resort is a short walk from the heart of the charming town, which is full of great shops, restaurants, and bars. This makes it easy for beginners to access the slopes and enjoy the stunning views of the Rockies. And when you're ready for a break, you can easily head into town for some
apres-ski fun
.
The Long Spring Season
From roughly early April to late May, depending on the weather, the resort offers some of the best skiing and snowboarding conditions in the world. The warmer temperatures and longer days make it easy to enjoy the scenery and make the most of your time on the slopes.
An Excellent Ski School
The
Breckenridge ski school
offers private lessons, which allow beginners to learn at their own pace without feeling pressure from other skiers. Additionally, the school offers group lessons, which are great for beginners who want to learn with others. Finally, the school offers specialized lessons for women and those with disabilities, ensuring that everyone has the opportunity to learn to ski in a safe and welcoming environment. The staff at Breckenridge are incredibly helpful and will teach beginners the basics so you can enjoy your time on the mountain.
The Unique Gondola Trip
The gondola is a 10-minute ride that gives beginners a bird's eye view of the town as they ascend to the top of the mountain. As soon as you get off the gondola, there are plenty of trails and options for getting back down to the bottom, whether you want to take it slow on a green circle trail or shred some powder on a blue square trail. Either way, the gondola ride is a great way to start your day and get an aerial view of all that Breckenridge has to offer.
Wide-Open Slopes
If you're a beginner, you're probably looking for a large enough resort to offer plenty of wide-open slopes. Breckenridge is a great choice because it definitely fits that description. Plenty of the 187
trails at Breckenridge
are greens and blues, and the staff is always happy to help out with directions. More advanced skiers can always explore one of the many off-the-beaten-path trails.
Beginner-Friendly Facilities Such as Chairlifts
The resort has a wide variety of beginner-friendly slopes, and the lift system is designed to provide easy access to the slopes.
Final Thoughts
If you're looking for the best Colorado ski resort for beginners that still has plenty to offer once you've mastered the basics, Breckenridge should be at the top of your list. With its variety of terrain, world-class ski school, and other off-mountain activities, there's something for everyone at this popular Colorado resort.