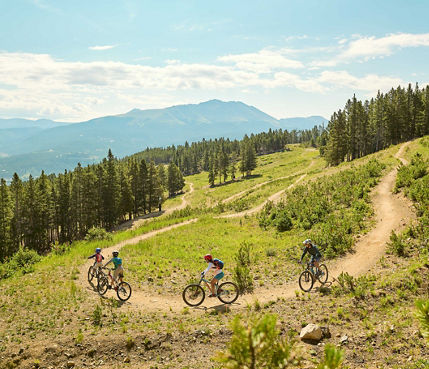 With its stunning scenery and diverse trails, Breckenridge offers an exhilarating experience for riders of all skill levels. If you're looking to learn the sport, there's a green-coded trail perfect for beginner mountain biking in Breckenridge.
For the seasoned rider seeking a new challenge, the Breckenridge mountain biking experience is still matchless. The Breck Bike Trails offer diverse riding terrain to test your skills and endurance. The trails are interconnected, so you create a custom circuit tailored to your riding skills. Rent a bike and enjoy thrilling downhill rides all summer long! For an effortless start to your ride, purchase a ticket for the bike haul chairlift, for the Colorado chair on Peak 8.

Before your visit, be sure to check on the latest construction updates for Peak 8, as some on-mountain summer activities will be impacted as we work to enhance your Breckenridge experience with the upgrade of 5-Chair to a new high-speed quad. But, even while these exciting upgrades are in progress, Breckenridge offers a great selection of exhilarating mountain bike trails.


Mountain Bike Trails
Breckenridge offers a diverse range of
mountain biking trails
, both on-mountain and around the town, with options ranging from easy to expert-only routes. The biking trails are color-coded — green, blue, and black — to ensure you don't pedal up or down terrain beyond your riding skills.
Green trails are the easiest as they offer gentle terrain suitable for beginners. With their diverse terrain, ascents, and descents, blue trails are more challenging and are ideal for intermediate riders. Black trails are the playground for advanced riders who can handle steep descents, sharp corners, root protrusions, and rocky outcrops. Mountain roads are for uphill traffic only and guests can expect to see vehicles while biking on these roads.
At this time, resort improvement projects are in progress. Please take note of detours and trail closures. Guests may encounter vehicles or construction equipment on these mountain bike trails.
Green Trail
NOTE: Due to construction, the Green Trail is currently unavailable for summer 2023.
Whirl is the only green-coded mountain bike trail on Breckenridge. It's a wide singletrack trail at the bottom of Peak 8. The offshoot of the Pioneer Trail starts at the top of Rip's Ride ski lift and meanders before reconnecting with Pioneer. With its gentle and flowing terrain, Whirl is perfect for beginner mountain biking in Breckenridge.
Blue Trails
The Blue trails at Breckenridge primarily comprise singletracks around Peak 8 and Peak 9. Sawmill, the shortest bike trail, is one mile long, while Swinger, the longest, is 4.2 miles long. The trails are interconnected; you can crisscross between them to add an element of thrill to each outing. The resort offers eight blue mountain biking trails, including:
Pioneer: The 4.1-mile double-track trail offers a smooth, flowy experience and is the easiest downhill route on Peak 8. Note: Lower Pioneer is currently closed due to construction.
Swinger: The 4.2-mile-long graded singletrack offers a thrilling downhill experience from the chairlifts to the bottom of Peak 8. Please note that some sections of the Swinger switchbacks may be closed due to construction.
Edge Trail: Set between Frosty's Challenge and Swinger, this 4-mile singletrack offers a diverse terrain with moderate climbs, descents, and flowing segments.
Breakaway: The 2-mile singletrack trail connects the Dwight's and Swinger Trails halfway up the mountain and offers a gentle climb that passes through steep terrain.
Wanderer: This 3.7-mile-long cross-country trail takes you to The Village at the bottom of Peak 9. You may encounter riders on horseback—always stop and let them pass. Note: The connection to the Peak 8 Trail System is currently closed due to construction.
Sawmill: The 1-mile long trail meanders in the valley between Peak 8 and Peak 9 before connecting to Prospector Trail at the bottom of Peak 9.
Prospector: This singletrack is only 1.2 miles long and mixes prairie and trees. It offers fabulous views and has lots of gorgeous flowers.
Zendo: The 1.2-mile trail connects the ski area with the Peaks Connection Trail. It's part of the County singletrack network and has a historical significance. Volunteers built the track in 2016 to commemorate the launch of Vail Resorts Epic Promise Day. The Town of Breckenridge, Breckenridge and Keystone Resorts, and Friends of Dillon Ranger District helped fund the project.
Black Trails

With only three options, Breckenridge's black trail offerings are limited but exciting. Frosty's Challenge will test your nerves, Dwight's Trail will push your riding skills, and Game Trail offers a combination of tough and rolling terrains.
Game Trail: The 3.8-mile-long singletrack offers a scenic ride across several streams and bridges. But the rolling terrain gives way to challenging sections characterized by large rocks and protruding roots.
Dwight's Trail: With its rocky descents, banked corners, and narrow routes, Dwight's is a challenging 2.9-mile expert-only trail.
Frosty's Challenge: At 1.2 miles, this trail offers a steep but fun descent before connecting to the Wanderer Trail. Test your mettle and peddle back up to Peak 8 or follow the rolling cross-country down Peak 9.
Convenient Mountain Bike Rentals
You don't need to bring a bike to Breckenridge when taking a vacation.
Breck Sports
, a bike rental service with multiple locations, let's you hop on a high quality, well maintained bikes suited for the trails you want to ride. They carry a diverse collection of great bikes from bespoke brands to cater to various age groups and riding needs. Have your pick between comfort cruisers and full-suspension bikes. Junior bikes and trailers are available for families vacationing with kids.
Your options may be limited if you prefer an e-bike. The resort only allows
Class 1 e-bikes
on the trails and bike haul. Each bike rental includes a free helmet. You can opt for a half-day rental when heading to the black trails and a full-day rental when looking for an idyllic riding experience.
You can rent a bike on-site or
reserve one online
and
enjoy a 20 percent discount
. When collecting a rental bike, you must produce a photo ID and sign a liability waiver.
Take Advantage of the Mountain Bike Haul
The convenient bike haul service is the cornerstone of Breck's mountain bike experience. The service effortlessly transports your ride and select e-bikes to the summit of Peak 8 using chairlifts. Accessing more than ten mountain biking trails without pedaling uphill is exciting.
The bike haul service is seasonal and operates during summer when mountain biking trails open. The resort equips the Colorado SuperChair with designated bike carriers. The bike racks attach to the chairlifts and are designed to secure hold and transport your mountain up the mountain.
You'll need a bike haul ticket to transport your bike up the hill, but loading up is a breeze. Helpful staff will help you secure your ride on the bike carriers at the bottom of Peak 8.
Strap in and enjoy the scenic ride to the top of the mountain because the view is spectacular from the lift chairs. The friendly staff at the summit will help unload your bike so you can start your downhill adventure in high gear.
Safety in a High Alpine Environment
The resort routinely closes the lifts during unfavorable weather and resumes operations as soon as the conditions allow. The afternoon showers are particularly notorious during summer but are often short-lived.
When biking in a high alpine environment, it's important to remember key
safety tips
. Afternoon thunderstorms can bring serious lightning, requiring guests to seek shelter. Stay away from power lines, lift towers, and standalone trees during storms.
Always adhere to the Mountain Biker's Responsibility Code, which states riders are responsible for avoiding other objects and people on a trail. Riders should ride only within their ability, starting small and working up to more difficult trails. Furthermore, use an appropriate bike and other protective equipment and inspect all biking equipment before beginning your ride.
Bikers must also know how to load and unload from the lift safely and remain aware of changing conditions throughout the ride. Always obey marked signs, riding in the intended direction only. Lastly, look both ways and yield to other bikers and avoid stopping in places that obstruct visibility. If you are involved in or witness an accident, always identify yourself to staff and provide necessary information as requested.
Start Your Summer Holiday on Colorado Singletrack
Grabbing a season pass can help you unlock numerous perks and massive savings. With a
23/24 EpicPass
, you can enjoy 20 percent discounts on bike rentals. The bike haul service operates from 9:30 a.m. to 5:30 p.m.
With many exciting outdoor activities,
Breckenridge Resort
is the perfect choice for a summer vacation. You can quickly turn your vacation into endless fun and exciting summer activities.
Learn more about
summer adventures
at Breckenridge.