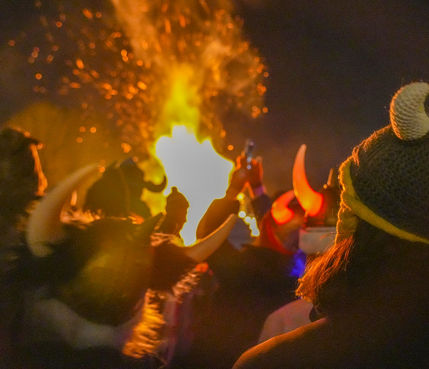 Located in the Rocky Mountains' Ten Mile Range, Breck is a picturesque Colorado town. It features both scenic nature and thrilling adventure. During colder months, it becomes a winter wonderland, making Christmas in Breckenridge a magical experience.

Affectionately nicknamed Breck, Breckenridge is home to the Breckenridge Ski Resort. The resort spans five peaks in the Ten Mile Range— peaks 6, 7, 8, 9, and 10.

With a summit of nearly 13,000 feet, a vertical of over 3,000 feet, and an average annual snowfall of over 350 inches, Breck is a popular destination for snow sports enthusiasts.

If you are planning to visit during the holiday season, here are some things to do in Breckenridge at Christmas.

You Can Hit the Slopes for World-Class Skiing

With nearly 3,000 skiable acres and 187 trails, Breckenridge Resort is home to spectacular downhill skiing and snowboarding. Ski bums spending Christmas in Breck will have plenty of runs to explore.

The resort boasts the highest operating chairlift in North America, the Imperial Express, clocking in at 12,840 feet. Since the mountain is easily accessible from the town, getting to and from the slopes is a breeze. The resort's Five Peaks ensure that there is fun to be had for everyone, regardless of skill level.

Regardless of your skill level or style, the resort is a must-visit if you are in Breckenridge, Colorado, at Christmas.

You Can Celebrate the Ullr Fest at Breckenridge

In the mood to party hard in order to ensure a season of great powder? Then Ullr Fest is one of the best things to do in Breckenridge in December.

Named after the Norse god of snow, Ullr Fest is a weekend-long celebration in early December where locals and visitors alike don Viking hats and celebrate the winter season.

Ullr Fest originally began in the 1960s as a way for the primarily Norwegian ski instructors to celebrate and share their heritage. They invited locals, and the tradition stuck.

You can watch the floats go by during the Ullr Fest parade, keep warm at the Ullr bonfire, or take part in the world's longest Shotskis®.

You Can Attend the Lighting of Breckenridge and Race of the Santas

Breck kicks off the holiday season with a bang – and hundreds of Santas. Traditioanlly the first weekend of December, this event involves a Santa look-alike race down Main Street, a dog parade, a holiday market, and thousands of Christmas lights. The town of Breckenridge transforms into a breathtaking holiday scene fit for a movie.

During the holidays, you can take in the beautiful snowy scenery of Breck while also enjoying the festive decorations and iconic Christmas trees.

You Can Enjoy One of the Breckenridge Sleigh Rides

If you're looking for romantic things to do in Breckenridge at Christmas, enjoy an old-fashioned sleigh ride. Breckenridge sleigh rides take you up mountains and through the pine forests, where you can enjoy the winter scenery. You can even go back in time to a mountain mining camp from the Gold Rush days, where you'll enjoy a hearty three-course meal and a live history dinner show.

A sleigh ride is a romantic way to experience Christmas in Breckenridge, Colorado.

You Can Go On A Christmas Shopping Spree

Whether you're getting last-minute Christmas gifts or treating yourself to something new, there are plenty of shopping opportunities in Breck.

Head to Breck Sports, The Mountain Goat Clothing Co., or Mountain Outfitters to upgrade your gear for a long day on the mountain. Or check out one of Main Street's many boutiques for unique and trendy finds. Shopping for Christmas in Breckenridge is a great way to spend an afternoon.

You Can Spend a Night on the Town

While Breck is a small town, it is home to numerous restaurants that cater to every taste. Whether you're in the mood for hearty pub food, sushi, or steak, there's a dining establishment in Breck that fits the bill.

Enjoy happy hour at one of Breck countless bars and bistros. Sit on the sun-drenched patio of Peak 8's T-Bar and après ski like the pros or for a fancier experience, enjoy 2-for-1 martinis at the Blue River Bistro.

You Can Go Cross-Country Skiing, Dog Sledding, or Snowmobiling

If downhill skiing isn't for you, then add cross-country skiing to the top of your list of things to do in Breckenridge at Christmas. Visit the Breckenridge Nordic Center for world-class cross-country skiing (also called Nordic skiing) and snowshoeing.

For a quicker way around the backcountry of Breck, rent a snowmobile or dog sled from Good Times Adventures. Take a snowmobile tour through Swan River Valley. Or rent a spot on a dog sledding tour, where you will learn how to work with a team of hardworking Siberian huskies.


Visit Breckenridge, Colorado at Christmas
Now that you know seven things to do in Breckenridge at Christmas, it's time to book your trip! Visit
Breck's lodging page
to check out lodging options and town excursions and to stay up to date on mountain conditions.
And check out Breck on Facebook, Instagram and Twitter to stay in the loop for terrain updates and events to enjoy during the holidays.