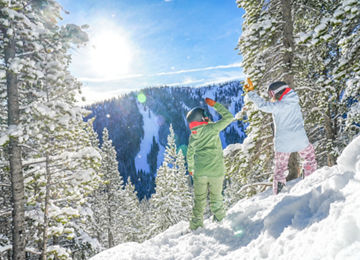 We were all there at one point — visiting Breck for the first time. Like the rest of us who learned the lay of the land, you'll probably love it so much that you'll either never want to leave or want to book your next vacation before this one is finished.

Making the most of a Breck trip means understanding how to navigate the mountain, preparing for altitude adjustment, and so much more. To get the most out of your inaugural visit, here are five useful pointers to help enhance your experience at Breck.

1. Prepare for Altitude Adjustment

That's altitude, not attitude. Chances are you're in high spirits about your first Breck vacation. But to maintain that magical mood, prepare yourself for life at 9,600 feet (at the lowest point) with few pointers. This means drinking a lot of fluids — water, sports drinks, and herbal tea — and limiting alcohol consumption. Proper hydration will help you acclimate to the new environment and enhance your experience.

Altitude sickness, sometimes referred to as mountain sickness, is a very real condition that can affect visitors of any age and physical fitness level. Even super-fit professional athletes sometimes struggle at this elevation with shortness of breath, weakness, and even dizziness and nausea. It's best to ease into activities rather than dive into six straight hours of steep mogul runs.

If you find yourself wheezing or wobbly, you may want to take it easy and get an O2 fix. There are a few places in town that specialize in providing supplementary oxygen, including The O2 Lounge, Alpine Oxygen, and 24-hour Oxygen. It's amazing how much it helps.

2. Get the Right Gear with Local Ski and Snowboard Rentals

Every outfitter in town has a solid lineup of skis and boards suitable for skiers and snowboarders of all sizes and ability levels. You can save yourself time and money by booking online from one of the Breckenridge Ski and Snowboard rental locations around town. They also pick up equipment at the end of your stay. They rent out new, state-of-the-art gear each season.

Get your gear delivered to your lodging. To make your first time skiing Breck easier, save yourself some time and reduce stress with Breckenridge ski rental delivery. This handy service means one less thing to worry about and maximizes time spent on the mountain. The ski rental equipment delivery brings the equipment you need right to your lodging location and provides a professional custom fitting.

3. Understand How to Navigate the Mountain

When looking at the trail map, it's clear that Breck covers a lot of territory. So where should you even start? Peak 9 offers an abundance of beginner slopes, and Peak 7 is a vast playground of intermediate runs. The resort is divided with most beginner and intermediate trails located near the bottom of the ski area. The steeper black and double-black terrain awaits rippers at the top. Be sure to check out our helpful guide on the peaks and where to ski at Breckenridge for a breakdown of the areas.

For first timers, not only to Breck but also to skiing or riding in general, Breck's Ski & Snowboard School offers a fabulous variety of group and private lessons for children and adults of all levels in a fun, safe environment, and a guarantee that you learn to ski or snowboard with the confidence to take on green runs and beyond!

4. Explore Things to Do Besides Skiing and Snowboarding

One key characteristic that sets Breckenridge far apart from — and above — many other resorts is that it's a real town. Breckenridge is a town full of history, character, great bars, shops, restaurants, spas, and entertainment options. It even has its own impressive Arts District.

The unique Arts District offers everything from pottery classes to live music and festivals. In addition, the Breckenridge Recreation Center houses one of the best indoor climbing walls in Colorado and hosts numerous fitness classes. If needed, be sure to take advantage of the Child Care Centers.

You'll love the myriad activities, including the high adrenaline variety like alpine coaster riding, and snowmobiling. For cardio-charged pursuits, try cross-country skiing and snowshoeing. Want to kick back? Take time off the slopes to enjoy cultural activities like whiskey tasting, touring historic mines, and haunted house tours.

The Breck events calendar provides more information about things to do and see beyond skiing and snowboarding. With so many options for thrilling activities, there's a chance for everyone in a travel group to find something they love.

5. Know How to Get Around

Navigating Breck with ease can help save time and make for the perfect day! A beautiful bonus in Breck is the free bus system, which runs throughout the town of Breckenridge. Frequent and reliable, Breck Free Ride covers the entire town with eight total routes, one for nearly every street corner. The free Summit Stage bus system serves Summit County from Breck to Frisco, Keystone, Silverthorne, and Copper Mountain.

In addition, renting a car isn't necessary with the Colorado Mountain Express. The service runs shared shuttles and private cars to and from Denver International Airport, day and night.

Nearly all lodging options at Breck provide great access to resort activities and the town of Breckenridge. Breck is known for its wide range of lodging options, from base area hotels like The Crystal Peak Lodge with ski in ski out access steps from the base of Peak 7, to One Ski Hill Place at the base of Peak 8 where guests enjoy easy access to four chairlifts to different peaks throughout the Resort. Other options include self-service condos charming cabins and bed & breakfasts in town, offering an option for every preference.

Planning to be on the slopes quite a bit? Check out Breckenridge ski-in ski-out access. Ski-in/ski-out access offers direct slopeside access, eliminating the need for transportation to the ski lift.


Get Prepared for Skiing and Snowboarding at Breck
With these expert tips in mind, it's easy to become a pro at navigating Breck. Preparing in advance helps ensure a thrilling, comfortable experience during your stay. Whether you're a beginner or a pro, everyone can enjoy the breathtaking beauty of Brecks' five unique peaks, offering a breadth of ski and ride experiences.
Preparation is the key to a fabulous getaway! Check out the
Breck Help Center
for answers to frequently asked questions. While you're there, explore more ways to get ready for your visit. Our support chat team is also available to answer any other questions.