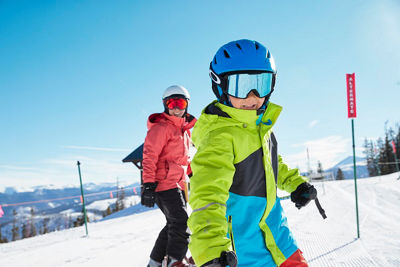 Experience Breck
We all start small, but it doesn't take much to feel larger than life.
There's something special about Breckenridge that brings families closer together. It's a contagious energy that's perched on top of our high alpine peaks as much as it's woven throughout the accessible historic downtown. It inspires everyone to conquer the highest point together but choose their own way down. It means ditching routine, bonding over new activities and making family time actually count.
We call this the Breck Effect, and when you finally feel it, there's no limits wo what you'll find.
Did you know you can ski Breckenridge starting at $109? With flexible options and savings of up to 50% off lift ticket prices, the Epic Day Pass is the value you didn't know you were looking for. FROM ONE DAY TO EVERY DAY. Find the pass that fits your winter.
Learning to ski or snowboard means more than just getting into a new sport. It means exploring the outdoors, gaining confidence and developing skills that follow you through the rest of your life. This is what your child can expect when enrolling in Ski School.
It is our mission to give you and your family an experience that will last a lifetime.