Winter 2021-22 Gear Guide
There is a Norwegian saying that goes "Det finnes ikke dårlig vær, bare dårlige klær" – for those that don't speak Norwegian, it translates to "There is no such thing as bad weather, only bad clothing!" Enjoy the mountains no matter the conditions this winter: gear up with curated picks on the best jackets, base layers, goggles, snacks and services for an Epic season.
Find the best styles at Epic Mountain Gear (223 Lusher Court, Frisco)
Helly Hansen
Since 1877, Helly Hansen has been on the forefront of innovative products. With product built for the outdoor professional, we believe we will exceed your needs no matter what mother nature throws your way. From waterproof breathable jackets to quick dry UV protective products, Helly Hansen has you completely covered to help you Feel Alive.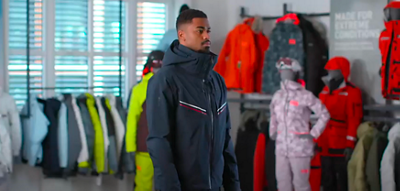 The next level of responsible waterproof/breathable technology with recycled face fabric and no added PFCs in a HELLY TECH® Professional construction. Featuring H2FLOW™ ventilation to keep you at an optimal temperature, the Life Pocket+™ to keep your phone alive longer in cold environments, and all the features you need for a great day on the mountain, this design is a best-seller for a reason.
Designed for the intrepid adventurer as a versatile midlayer, the Varde is made with Polartec® Thermal® Pro™. This particular fleece delivers warmth without weight, durability and quick-dry properties. With the environment in mind, the fleece features over 70% recycled content.
LIFA® MERINO MIDWEIGHT is perfect for any type of activity in cold weather. A unique 2-in-1 base layer with 100% merino wool combined with LIFA® Stay Warm Technology in a 2 layer construction. LIFA® Merino MIDWEIGHT delivers all the great benefits of merino wool fibers plus the unique properties of technical LIFA® fibers.
Proper layers are the key to staying comfortable on long, snowy adventures. This half-zip, hooded midlayer provides cozy warmth even when damp, and is abrasion resistant with your shell ski jacket. With the environment in mind, it's made from 87% recycled materials.
This Merino wool and nylon blend sweater offers the warmth of wool with the durability of nylon. With a cool ski style and tons of warmth, you'll want to wear this sweater from the cabin to the mountain… and back again.
Our LIFA® Merino Lightweight collection is versatile and ideal for all cold weather activities. We used our proven 2-in-1 layer system, combining LIFA® Stay Warm moisture management and the natural warmth of merino in an extremely lightweight half-zip. LIFA® Merino LIGHTWEIGHT delivers all the great benefits of merino wool fibers plus the unique wicking properties of technical LIFA® fibers.
Classic, warm and stylish juniors' ski jacket with down-feel high loft synthetic insulation mixed with PrimaLoft® . Fully equipped for skiing with a powder skirt, RECCO® Advanced Rescue system, ski pass pockets and a Life Pocket™ to keep your phone alive longer in cold environments. Stay in contact with friends and family while having fun on the mountain. Also, part of Ski Free, explore the world's best resorts in Helly Hansen.
The juniors' Alpha is a fresh take on our bestselling premium resort ski jacket. We designed it with a fully waterproof and breathable HELLY TECH® Performance exterior plus a light, warm PrimaLoft® insulation so you can have fun on the mountainside all day. It's equipped with ski-day details: powder skirt, detachable hood, hi-vis elements, a ski pass sleeve pocket, RECCO® Advanced Rescue system transponder and a LIFE POCKET™ to keep your phone alive longer in cold environments. Responsibly made, the DWR treatment is PFC-free and the insulation is 80% recycled.
Find the best styles at Breck Sports – The Maggie (575 South Park Avenue)
Oakley
The Line Miner goggle was created with the purpose of providing the ultimate in peripheral vision in a cylindrical-style design. The Line Miner range comes in Large, Medium and Small or Youth sized fit.
MOD1 Pro builds upon Oakley's best-selling snow helmet, MOD1, by enhancing with Dura-Matter construction, designed to increase all-around durability while keeping the same low-profile design as the original model. This classic skate-style inspired helmet is offered in multiple fits and sizes and ready for anywhere on the mountain. The MOD1 Pro comes in Small-XL in a Standard, Asian and Youth fit to accommodate all sizes.
Oakley's Frogskins evolves the iconic Frogskins shape with a lightweight, titanium frame. This limited-edition style is constructed from premium titanium that showcases Oakley's Frogskins design. The frame features Prizm lens technology engineered to enhance color and contrast.
Make sure you have the energy to be great out there! Made with the best ingredients like whole grain oats and power-packed wholesome peanuts, almonds and nut butters, you can rely on Nature Valley for real energy, wherever and whenever you need it.