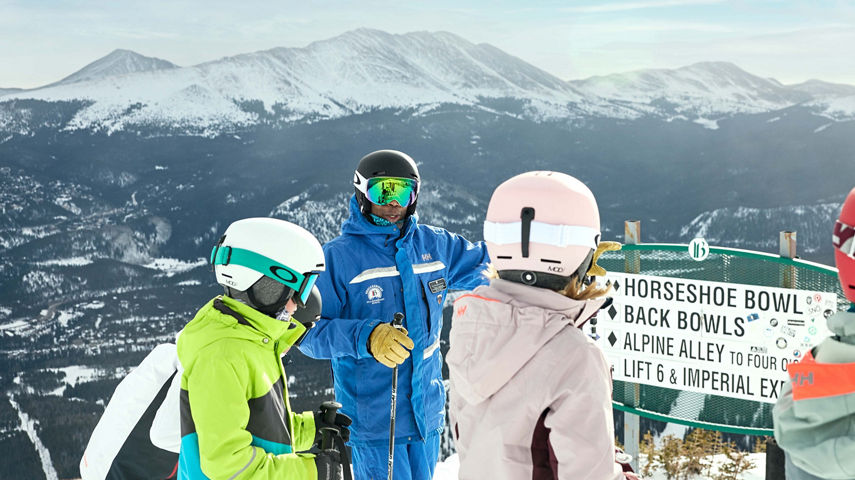 So, you're interested in your kids getting outside and developing a life-long passion for the mountains? You've found the right place to start. Here's what you need to know:
Start 'em young –

Kids can begin taking ski and snowboard lessons as young as 3 years old as long as they're potty-trained. Even if they're older, it's not too late to start! Ski & Snowboard School groups are split both by age and ability level so your kids will learn alongside others just like them.



Avoid passing down your bad habits –

We could all benefit from a skills refresher and we certainly want our little ones to get the best instruction and gain confidence. Call on Breck's expert instructors to give them a solid foundation.



Enjoy your adult time –

The best part about being on vacation is being on vacation. Leave the hard work to our instructors and enjoy more time exploring Breck's Five Peaks with your crew while your kid meets their own buddies.



Give your child independence and the experience of a lifetime –

Allow your kids to thrive on the mountain with others their own age in a safe and FUN environment.



Three lessons provides a solid foundation –

Give your child enough time with their instructor to understand the basics and practice new skills.



Once they are 7-14 years old and intermediate skiers, enroll them in the All-Terrain Program.

They'll spend the day completing an ATP Challenge - a fun way to explore Breckenridge's 2,908 skiable acres with a world-class guide. The day concludes with a prize to commemorate their experience and completion of the challenge!



Consider a private family lesson –

The perfect choice if you want to spend the day with your kid and enjoy personalized instruction! Our guides will assess your goals and show you the best of Breck.



Save money on lift access – If your child is under age 5 lift access is included. If they are elementary age and you live in Colorado enroll in Epic School Kids. Remember Epic Pass Holders save 20% on all group lessons with Epic Mountain Rewards. Lift ticket add-ons are also available during check out.


Save money on rentals – If you're coming for a short trip consider purchasing add-ons when you purchase your lessons. If you live in Colorado and your child wants to use the same gear all season, consider Junior Trade.


Arrive early for a relaxed morning and drop off! Reference our Prepare For Your Lesson tips to know where to go, what to expect, and what to bring.


Have fun and stick with it! Skiing and snowboarding are great ways to get outside, make new friends, stay active, and learn something new. Ready to book a lesson for your little one? Click here.