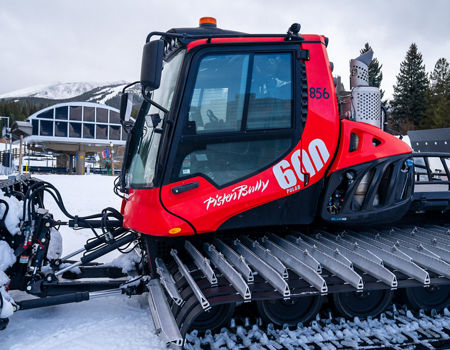 THE MAIN COURSE

Here at Breck we have a lot to be thankful for – friends to hit the slopes with, gorgeous views of the Tenmile Range, and a winter wonderland to play in. While we've had a slower start to winter this year (come on, Ullr!), if you're joining us this Thanksgiving you'll be sure to find plenty of holiday season stoke to share with family and friends.

November is a big month for us as we get the resort up and running for the season and our teams are working around the clock to get more terrain and facilities open across the resort. We're just as excited as you are to enjoy generous helpings of terrain and powder this winter, but it's important to note that it is still early season here, and currently terrain is limited until Ullr kicks things into gear... praise Ullr!
For the Thanksgiving weekend, we'll be skiing and riding out of two base areas, Peak 8 and Peak 9, with access to primarily beginner and intermediate terrain, including learning areas for those just starting to slide on snow. We'll continue to work towards opening new terrain at every opportunity, and right now the Beaver Run SuperChair is planned to come into the mix on Thursday this week, with skiing and riding on Cashier and Bonanza. Beyond that we'll be looking to add the Rocky Mountain and Mercury SuperChairs the following week, as weather and conditions permit. Check out our lift and trail status page to keep track of what's open and to plan your day before you arrive.
Speaking of skiing and riding... did you secure your Epic Pass or Epic Day Pass yet? Available for a limited time, this is your last chance to get the best deal on lift access for this winter season here at Breck, and across our more than 40 resorts accessible on the same pass. Learn more about the variety of options here!

THE SIDES

While we know skiing and riding is often the main course for a holiday visit, the turkey of the Thanksgiving dinner if you will, the sides are just as important to the overall experience. Here at Breck this holiday, you can enjoy helpings of ski and ride school lessons, on-mountain dining and après, and activities and fun throughout town to round out your holiday experience.

If you're just starting out or getting your ski and ride legs back under you for the season, booking some time with our ski and ride school is never a bad idea to get you off and running on the right foot! We are offering group and private lessons out of Peaks 8 and 9.

For on-mountain dining, we have a variety of quick-service options on-mountain and in our base areas that are currently open for when you're looking to refuel during the ski day, want to sit down for a table-service meal, or you're ready for après. The Maggie at the base of Peak 9 offers a variety of beers on tap to go with your burger or head up the Quicksilver SuperChair for classic barbeque at Tenmile Station. Slide one peak over to Peak 8, and you'll find The Vista Haus for signature hand-held options, think gyros and cheesesteaks, Ski Hill Grill for mountain classics like burgers and pizza, and the infamous T-Bar for slopeside craft beers and cocktails, shareable apps and one of the best apres-ski-bar scenes around! Lastly, while Peak 7 isn't targeted to open until Dec. 8, you can still head over there via the BreckConnect Gondola and enjoy elevated table-service dining for breakfast, lunch and dinner.

Looking for more ways to get in the holiday spirit? Take a spin on the ice skating rink at Peak 8, go for a stroll down Breck's historic Main Street and get an early start on your holiday shopping with unique local shops and goods, plus a variety of fantastic restaurants and bars throughout town.

LEAVE THE THANKSGIVING COOKING TO US

Join us at Sevens, located at the base of Peak 7 and accessed by the BreckConnect Gondola, for an all-inclusive 4-course Thanksgiving dining experience on Thursday, Nov. 23. A feast for the senses, leave the cooking to us and enjoy quality time with your family and loved ones with a delicious and festive meal in a beautiful mountainside setting. You can find more information and book your reservation here.

MORE SNOW AND TERRAIN IS ON OUR WISH LIST

We want to be skiing and riding more terrain just as much as you do, and our teams are working hard and at the ready! As we mentioned above, we are working on lifts and terrain across Peaks 8 and 9, and we'll be working to open Peak 7 in early December. While much of our progress depends on Mother Nature and many variables can come into play any given year, our teams have a plan and strategy in place for how we approach opening terrain across our Five Peaks and connecting key areas of the mountain together so that we're ready to open more as soon as snow and conditions allow.

It takes a huge crew and hundreds of hours of work to get our terrain ready for our skiers and riders every season, and the work begins pretty much as soon as the resort closes in May of the previous season in May. Learn more about what it takes to get our resort up and running for the season and to get terrain open across our Five Peaks, including our high alpine terrain, from lift maintenance to snowmaking to grooming to ski patrol, in this video that we created last year.