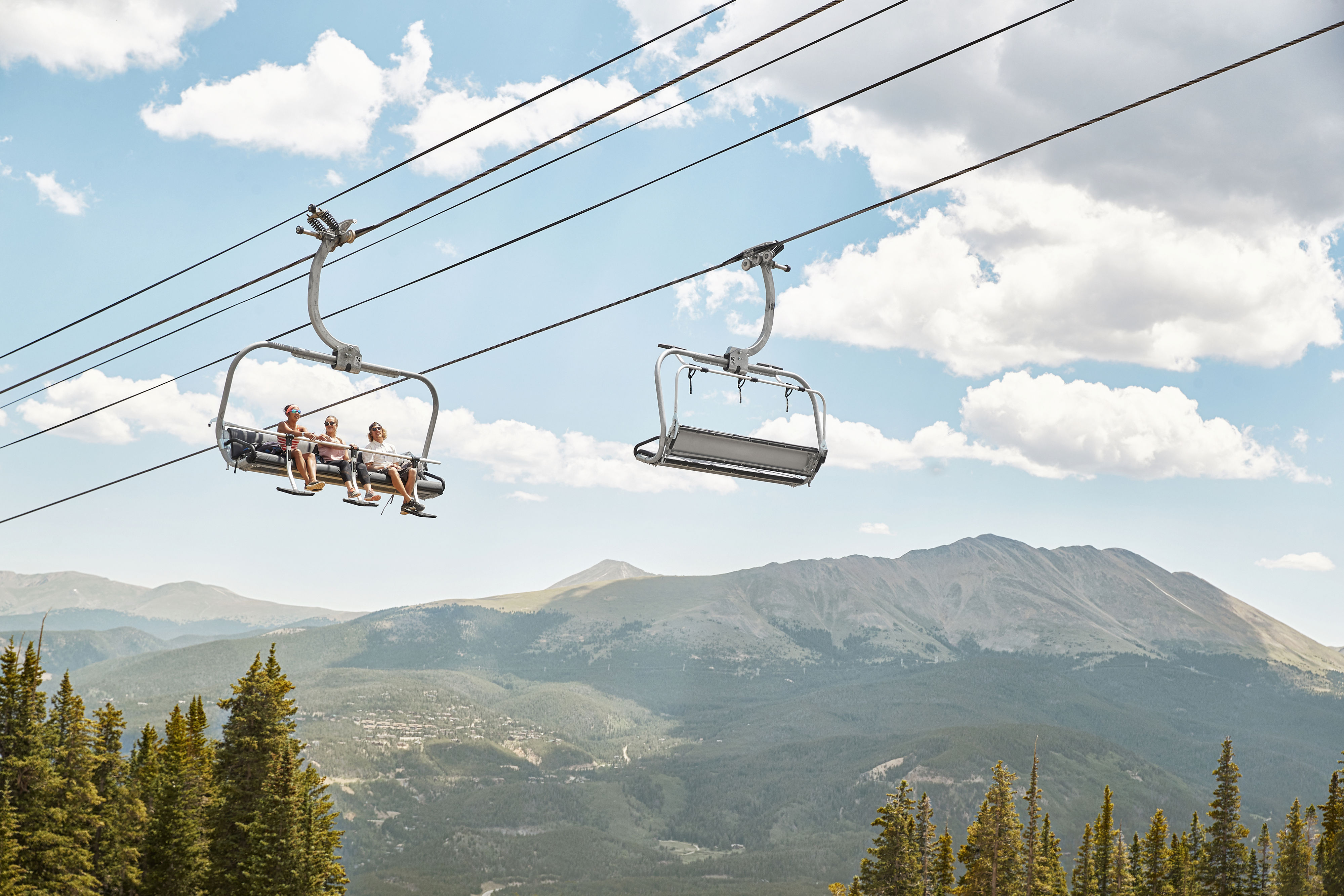 This summer, experience the mountain you love in a whole new fashion. Trade in your skis for bikes and your boards for hikes. Or just take in the sights and beat the city heat. Either way, your days are sure to be filled with summer fun, mountain adventure and views that will literally leave you breathless.
So, are you ready to elevate your summer at Breck?! Join us for a high alpine summer, with daily operations taking place June 17 through Labor Day (Sept. 5).
Following is the scoop on what you should know for summer 2022 at Breck:
Ride the FREE BreckConnect Gondola
The BreckConnect Gondola operates daily for summer from 9:30 AM to 5:30 PM, providing free transportation between the Town of Breckenridge and the ski resort's Peak 8 base area. Hop aboard a gondola cabin to enjoy a free scenic ride, and use this as your primary transportation to and from summer adventures and activities at Breck's Epic Discovery.
Epic Discovery On-Mountain Activities
The hub of on-mountain Epic Discovery activities at Breck is at Peak 8, starting with Base Camp and then riding the Colorado SuperChair all the way up to Alpine Camp. The most popular summer activities are our Alpine Slides and Gold Runner Coaster (Pro Tip: Arrive early and hit these fan favorites first thing to best avoid any lines). But you'll also find a variety of scenic, family-friendly and thrilling activities throughout Epic Discovery. See below for a full list of our planned summer activity offerings!
Escape the Heat with a Mountain Retreat
Our high alpine environment allows you to get out and cool off in summer. With a base elevation of 9,600 feet above sea-level, low humidity and average summer temperatures in the mid-70s, Breck is the perfect mountain retreat to escape the heat and humidity of the city.
With our low humidity, you'll also notice that temperatures can swing pretty drastically between morning, afternoon and evening. Plus, add in the elevation factor and you may find that while shorts and a T-shirt were perfect for walking around in town, they may not be quite enough up on the mountain (on average, expect the temperature to decrease by 5 degrees with every 1,000 feet of elevation gained). We always recommend checking the weather before heading out for your summer activity, and bringing along plenty of water, sunscreen, layers and a rain jacket, just in case.
Summer Can Bring the Thunder
While summer in the Rocky Mountains often brings beautiful weather and temps, it can also bring afternoon thunderstorms that can impact summer operations (particularly in the last half of July and the month of August). Sometimes stormy weather is very noticeable, accompanied by dark sky and clouds, and other times it can appear sunny even when lightning is still nearby. Please know that regardless of what the sky above you may look like at the time, if activities are closed due to weather it is for everyone's safety and we will reopen as soon as it is safe to do so. Starting your summer activities and adventures early is a great way to help avoid potential weather impacts!
Pardon our Construction – Rip's Ride Chairlift Upgrade
This summer we are working to replace and upgrade the Rip's Ride chairlift on Peak 8 to a high-speed quad for the upcoming 2022/23 winter season. With a short construction season in the mountains, work begins as soon as the lift closes for winter and continues into fall. Due to this construction, there will be some impacts to summer activities, particularly our Kids Base Camp area. Most notably, the Lil Climber Challenge Course will move closer to the base of Peak 8 and the Colorado SuperChair. In addition, due to construction we will not operate our kids summer tubing activity, kids zipline or the Breck Flyer Zipline.
Snow Melt, Trail Conditions and Openings
At Breck, we move from winter operations to summer operations in a matter of just a couple weeks. And, depending on our winter snowpack and spring snowstorms, it can take a little longer for certain areas of the mountain to be ready to open in summer. To help preserve our mountain terrain and the condition of our trails all season long, it's important that we wait until the snow melts and the ground dries before allowing guests to recreate in those areas. We do our best to open trails as soon as they're ready, and you can find updated information on hiking and biking trail status on our website.
2022 Summer Activities & Operations
BreckConnect Gondola Hours of Operation: 9:30 AM to 5:30 PM
Epic Discovery Hours of Operation: 10 AM to 5 PM
BreckConnect Gondola: Free transportation from Town up to the base of Peak 8
Colorado SuperChair: Scenic rides and access to Alpine Camp

5-Chair: Access to the Alpine Slides
Ski Hill Grill & TBar: Located at the base of Peak 8

Vista Haus: Located at Alpine Camp, off the top of the Colorado SuperChair
Sevens: Located at the base of Peak 7
Peak 8 Base Camp Activities:

The Colorado SuperChair: Scenic Rides, Bike Haul and access to Alpine Camp
Scenic Rides: Ride the Colorado SuperChair for beautiful views, taking guests to heights more than 11,000-feet above sea-level.
Bike Haul/Mountain Biking: Lift-served mountain biking access to trails on Peaks 7 & 8
GoldRunner Coaster: Start your ride at an elevation of 10,230 feet, before racing down the mountain, hitting speeds of up to 25 MPH on 2,500 feet of elevated coaster track as you wind through the forest. Ride single or with a friend.

Alpine Slides: A classic favorite at Breck, choose between three exhilarating 2,600-foot-long slides and control the speed of your cart as you race down berms, turns and straightaways.

Lil' Climber Challenge Course: The kid-sized version of the Alpineer Challenge Course features ropes, bridges, logs and other kid-friendly obstacles and challenges for younger guests.

Bungee Trampolines: Harness up and get ready to bounce, flip and soar towards the mountaintops.
Mini Golf: Putt for fun or a hole-in-one on this scenic miniature golf course.

Mini Miner Gemstone Panning: The history of the gold rush comes alive at Peak 8 Base Camp. Pan for gems in this interactive sluice and take home your finds.

Alpine Camp Activities (Accessed by the Colorado SuperChair):
Alpineer Challenge Course: Test out your agility on one of 15 different challenges from lightly swinging logs, to shoe-to-rope balancing maneuvers
Gold Summit Climbing Wall: The 40-foot-tall climbing wall offers 16 distinct routes to challenge all ability levels, from beginner and advanced climbers.

Vista Point Overlook Tower: Enjoy panoramic views of Breckenridge and the surrounding Rocky Mountains at over 11,000 feet.

Interpretive Hiking Loop: Less than 1 mile, this gentle walking trail includes "Story Stakes" with photos, fun facts and interactive activities about the environment and wildlife at Breckenridge Ski Resort.

Horseshoe Bowl Hiking Loop: This approximately 1 mile alpine loop trail is a moderate hike that becomes blanketed in red, yellow and purple wildflowers mid-summer.