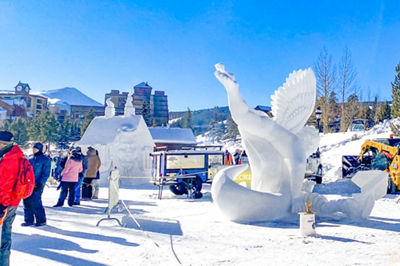 12 teams join us from as far away as India and as close as our very own Breck itself. Each team will hand carve a 12-foot-tall, 25-ton block of man-made snow. Artists will sculpt around the clock across five days to bring their ideas to life. At the end of the event, spectators can enjoy a beautiful outdoor art gallery right in historic downtown Breckenridge.
Now, you may be wondering how the Town of Breck is able to provide such massive amounts of snow – and no, the answer is not from our dear friend Ullr. Since the inception of the competition, Breckenridge Ski Resort has been working behind the scenes to create the perfect high-quality sculpting snow.
Our new high-efficiency, low-energy snowmaking guns play a huge role in creating the purest, most ideal man-made snow for sculpting. Snow for skiing is made to be light and easy to push around trails and groom. But, for snow sculpting, artists want heavier snow to easily compact and sculpt. Our high-tech snow guns are able to self-adjust to select wetter or dryer snow depending on the temperature outside, guaranteeing snow particle size and quality stay consistent.
The resort and the town work together every year to create perfect conditions for this ever-so-Breck art show. So now, at the end of your day, you can ski right from the highest chairlift in North America directly into a world-renowned snow sculpting competition!