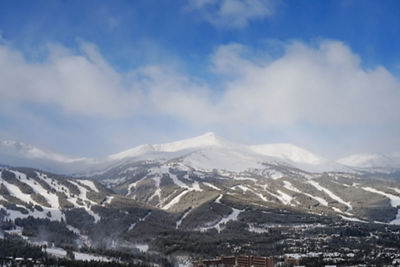 It's no surprise that weekends and holidays are a popular time for skiers and riders to hit the slopes. And, while we are firm believers that friends on a powder day (and any day on the mountain!) are a good thing, we know that a little advanced planning and preparation, along with some insider tips and tricks, can make all the difference when it comes to having a great day on the slopes!


From planning your visit to parking to our Five Peaks, use this guide to help plan ahead and maximize your time in Breck.

Whether it's lodging, lift tickets, ski school or rentals, it is always a good idea to book in advance. It not only guarantees your spot but it usually saves you money, too. Save yourself the time and worry, and reserve all the essentials for your trip to the mountain in advance.
For this winter, we are limiting lift ticket sales every day of the winter season to help balance pass holder visitation with our lift ticket guests and provide the best on-mountain experience possible for everyone. So, if you purchased an Epic Pass or Epic Day Pass during early season pass sales, you are good to go, but if traditional lift tickets better suit your style, then make sure to check lift ticket availability and secure your access before heading to the mountain.
Arrive (and drive) early for the easiest commute to the slopes AND carpool when you can! It's good for the roads, the environment and your wallet, with carpool discounts available in all paid parking lots for vehicles with 4 or more people.


As you're driving into Breck, be sure to check the digital sign boards on the right side of Highway 9 for real-time updates on which lots are open or which lots might already be full. And, as tempting as it may be to think you'll be the lucky car to find a unicorn spot in a full lot, it helps everyone's experience to get on the mountain faster if you follow signage and directions to our open parking lots. Note that most parking in town is paid, but there is free parking available just outside town in our Airport Road Lot.

If you're driving to visit us, check out more information about getting here on our website, and use GO I-70 for road conditions, tips and carpool options.
And for those driving, when it comes to packing up the gear and getting ready to head back home at the end of the ski day, keep in mind that 4 PM is the most popular time (and therefore usually the most congested time) in the parking lots and on the roads around town. Save yourself the added car and traffic time by walking into town for a little bit before you hit the road. Breck's Main Street is easy walking distance from all in-town parking lots and offers great sights and bites, with candy-colored Victorian buildings lining the sidewalks and more than 200 shops and restaurants.

Navigating our Five Peaks
Knowing where to go, and what terrain best suits your ability level, can make a big difference in your experience on the mountain, especially at a big resort like Breck. Lucky for you though, we've helped outline this information for you further, with details on how to access the mountain, what base area might be best for you, as well as how to progress across our Five Peaks from our learning terrain to our most extreme terrain. To learn more, check out our page about navigating the mountain. And, for current information about what's open check out the lift and terrain status page of our website and download the EpicMix App.
In addition though, here are some helpful tips that can help get you on your way to finding the best snow:
If you're just starting out and getting your ski legs under you, Peak 8 and Peak 9 are the places to go. At Peak 8, the Rip's Ride area offers learning carpets for those just starting and warming up, and then just next to the learning carpets, the newly upgraded Rip's Ride chairlift provides access to great beginner terrain. Similarly at Peak 9, the Quicksilver area offers learning carpets and then beginner terrain on the Quicksilver SuperChair.





If you're an experienced skier or rider, and ready to get on the mountain and access

terrain

quickly,

start your day at Peak 7 (intermediate-and-above only). From there you have quick and easy access to lower Peak 7 groomers, and then high alpine terrain off the T-Bar and Peak 6.





Get up, over and away from main access points

!

The base area lifts are

often

the busiest areas of the

resort

because

that's where everyone is

converging to start their day and get on the mountain.

One you're on the mountain, spread out and utilize

our other

lifts, versus returning to a base area lift.





Peak 6 and Peak 10 are the outermost peaks flanking the resort and are some of the most lap-able peaks on the mountain. With no base area access, you're at least two lift rides away, but the reward is usually more laps and less people.





Get high! We mean, like

,

High Alpine

kinda

high. If you're an advanced/expert skier or rider, head to

our lifts that service advanced terrain, like

the T-Bar, 6-Chair, Imperial, E-Chair, Falcon

SuperC

hair

and Kensho

SuperChair

.



On powder days, high alpine lifts and terrain

are often

slower to open due to snow safety and avalanche mitigation work. Be patient and warm up your legs on lower mountain terrain, while keeping an eye on the EpicMix app for lift openings. Oh, and high five a mountain ops employee for working hard to get the mountain open so you can get after it

!


At the end of the day, ski back into town using the 4

O'Clock

trail.




Pro tip: Whether you're a beginner or an expert, our Ski & Snowboard School can help you learn like a pro AND they can help you navigate the mountain like a pro. And bonus! If you're in a lesson, you get the benefit of skipping the lift lines all day so you can ski and ride more lines.

Ditch the Car While You're Here
One of the best things about Breck is that the whole town is incredibly pedestrian-friendly. There is truly no need for a car while you're here, so if you do drive to town, we highly recommend leaving your car in one place once you're here. Between the walkability of Town and Main Street, the BreckConnect Gondola connecting the mountain and town, ski-to-town trails and free in town buses, it is very easy to navigate the town and the resort without your car.

Stay Connected
Stay connected to resort updates and information by following us on Instagram, and check out some of the 'Breck-Down' and Five Peaks stories pinned to our profile for more handy tips and information. And, don't forget to download the EpicMix App to help you navigate the mountain and stay in the know while you're at the resort.
We're all out here to have fun, so share the slopes, share the stoke and share these tips with your friends!