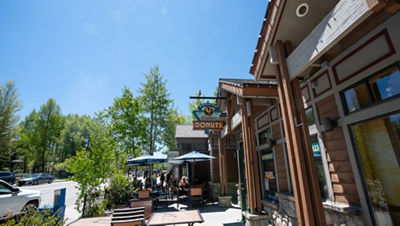 Make sure to grab a cup of coffee to get your day started the right way! Breck is a walkable town with shops, cafes and beautiful views. So, start your morning off with a light stroll and a delicious, freshly brewed cup of Joe. You'll find a great selection of local coffee shops in Breck to explore, whether you're looking for a classic roast or a blended drink. Check out some of our favorite local coffee shops right in Breck:

1. Unravel Coffee

Located within the super cool, modern Gravity Haus, Unravel offers more than just an exceptional cup of coffee and healthy breakfast bites. Unravel is also committed to using sustainable practices, co-producing, and importing its coffee beans from farms in Ethiopia. Each and every cup of Unravel Coffee is brewed fresh in-house, so make sure to grab a cup and check out the cozy lobby and fireplace to start your morning.

2. The Crown

The Crown is a locally owned and operated coffee shop in the heart of downtown Breck on Main Street. This cozy, bohemian-style coffee shop is all about community, from serving cups of Breckenridge Coffee Roasters to supporting local artists with rotating art displays. Support locals and grab a delicious cup of coffee or some breakfast at The Crown. If you're hungry, the Royal Tiger breakfast burrito is one of our faves.

3. Daylight Donuts

If you're looking for a sweet treat with your cup of coffee, check out Daylight Donuts on the north end of Main Street for a small, locally owned and locally renowned business, including killer donuts, of course. You'll often see Daylight busy with locals and visitors because these donuts will in fact make you go nuts. Plus, there's also an extensive menu of other hardy breakfast items if you're looking for something more filling and want to sit down to enjoy a full breakfast.

4. Clint's

Clint's Bakery & Coffeehouse is a longtime favorite in Breck. Located right in the heart of Main Street, Clint's is a perfect place to pop in for a snack and cup of coffee at the bakery, or breakfast and lunch at the deli. Clint's is known for their sweet treats, from homemade blueberry muffins and cookies to cinnamon rolls and even locally sourced ice cream in the evenings!

5. Cuppa Joe Breckenridge

Locals know Cuppa Joe for its delicious coffee selection and cozy atmosphere. From rich drip coffees to fancy latte art, coffee lovers will have no trouble finding something intriguing on Cuppa Joe's lengthy menu. To pair with your coffee, indulge in one of Cuppa Joe's warm baked goods, including muffins and sweet bread.

6. Cool River Coffee House

Serving all-day breakfast and coffee, Cool River Coffee House is a great spot to grab your morning coffee and breakfast, whether you want to sit down, sit outside or take it on the go. From smoothie bowls to breakfast burritos, Cool River Coffee House is sure to please every person in your group.

7. Amazing Grace
Started as a natural foods store in the early 80s, Amazing Grace has evolved into a community coffee shop and eatery loved by locals and visitors alike. Naturally sourced and crafted with love, Amazing Grace's menu not only offers a variety of coffee drinks but also a menu featuring healthier fare and a variety of vegan options. Try the vegan chocolate chip cookies (trust us, even if you're not vegan!), and homemade scones and biscuits.
8. Ullr Café

Located right at the base of Peak 8, Ullr Café is a convenient place to grab a cup of locally sourced coffee before hitting the mountain (winter or summer)! From sunup to sundown, Ullr Cafe is an easy grab-and-go stop before jumping back on the hill. Looking for an end of day bevvy? Enjoy a classic cocktail menu of mimosas, screwdrivers, margaritas, Moscow mules and loaded bloody mary or select from a wall of self-pour Colorado beer and wine taps.

Finding the Best Coffee in Breckenridge

From mountainside coffee shops to relaxed restaurants for a complete breakfast meal, there are so many places to find the best coffee in Breck. Try one or try them all to find the perfect cup of joe on your next vacation.