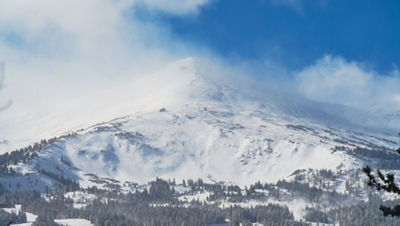 PEAK 8 IS THE PLACE TO BE!
Starting on Wednesday, Nov. 9, the BreckConnect Gondola will open at 8 a.m. to provide access up to Peak 8, and the Colorado SuperChair and 5-Chair will start spinning at 8:30 a.m. The Colorado chair is where all the First Chair glory and action takes place, and those six who snag the title of official First Chair Champions will be handsomely rewarded with a pair of sweet Oakley goggles. To set the mood leading up to First Chair, we'll have local legend DJDC spinning tunes from the Rockstar DJ Cat (yes, that is actually a real snowcat turned DJ booth!). Plus, free waffles to fuel up before we kick things off. For skiing and riding, we'll be primarily on the Springmeier trail with about 55 skiable acres, and we'll also have learning carpets and terrain open near Rip's Ride. With the incredible progress on snowmaking so far though, we'll be looking to expand terrain quickly.
Oh! And, in celebration of opening early, we'll have free parking in the North and South Gondola Lots on Wednesday and Thursday this week before moving into paid operations for the season.
WAKE UP BRECK – THURSDAY, NOV. 10
This resort and community tradition usually takes place prior to opening day to kick off the season, but this year that's flipped and reversed and we aren't complaining! We still invite all members of our Breck community to join us at participating coffee shops across Town starting at 7 a.m. to collect a FREE commemorative coffee mug and a free cup of coffee to celebrate the start of an awesome winter season. The event will last until mugs run out, which is typically about 1 hour. Also, we know these mugs are cool but please, only one per person. Sharing is caring. Also! There is an opportunity to give back to the local community as we will be collecting cans of food and non-perishable items for donation to the Family & Intercultural Resource Center (FIRC) local food bank. For more information, including participating coffee shops, visit our Facebook event listing.