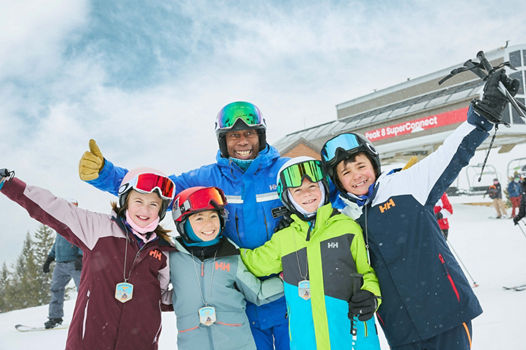 No one hits the slopes for the first time and nails it. That's why we offer
kids ski and snowboard school
. If you want your kids to learn beyond the basics, you'll want them to spend the day with Breck's ski and snowboard school.
This article will highlight what to know and how to prepare for kids ski and snowboard school.
Tips for Preparing for Ski School
You may be wondering: how do I prepare my child for ski lessons? Should my child learn to ski or board first? How many days should kids be in ski school? While it varies, you'll find helpful tips to get you started below.
Choose the Right School
If you want your child to get the most out of their ski or snowboard lessons, a little research goes a long way. At Breckenridge, you'll have a variety of slopes to choose from once you get the hang of skiing since it offers five different mountains to enjoy. That way, you and your family can move off a bunny hill and into more advanced terrain when you're ready!
At Breck, you'll also have a choice of private or group lessons. Both private and group lessons can be fun and effective in their own way. Some students learn best in one-on-one instruction, while other kids may have more fun and take some of the pressure off them in a group lesson. Whichever your choose, our ski and snowboard instructors are world class with expert backgrounds who will support your child's growth on the mountain at the right pace for them.
Double Check the Gear
Make sure your child is prepared with the right gear to stay safe on the slopes like a helmet and goggles. Gear, like skis and snowboards, can be rented if you need!
You'll want to check that all of your child's last year's gear fits, including boots and jackets. Check for any tears or worn spots to make sure they stay warm all day long. We know gear can be a lot to take care of year after year, so check out the
Junior Trade Program at Epic Mountain Gear stores
, where you can trade in your child's outgrown gear for store credit.
Book the Ski School Ahead
Booking two weeks in advance for regular lessons and even earlier for holiday bookings or private lessons is suggested to make sure you get your child into the lesson you want. If you decide to book last minute, you'll need to do so by phone or at one of the Ski & Snowboard sales locations. There's no guarantee that all classes will be available.
Wondering how many to book? A week of daily lessons will help your child get off to a decent start on the slopes. Even those with some experience may want to take a couple of days of lessons to ensure no bad habits are showing and to make the slopes more fun.
Take Breaks
Even if you're dedicated to learning, kids and adults alike need to take breaks from time to time. Warm up with a hot chocolate, chat with some friends, dry out the gear, and reset before you get back out there.
Skiing vs. Snowboarding
Wondering which to learn first? That's totally up to you and your style! No matter what your ability level, anyone can benefit from a class or two. Learning as a kid through ski and snowboard school can ensure your children learn the skills they need to be successful on the mountain.
Enjoy Your New Skills
Finally, be sure to schedule some time during your visit to have fun with the techniques you learned in your lessons. Once your family has graduated to green runs and beyond, hit the slopes together to try out the newfound skills and to practice. With our
Green Run Guarantee
, you'll be exploring
Breck's Five Peaks
in no time!