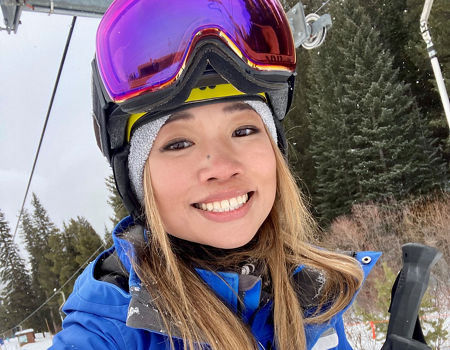 GET TO KNOW ONE OF OUR WORLD-CLASS INSTRUCTORS:
SAMANTHA
Hometown: North Providence, Rhode Island
Instructor Experience: 1 year
Certifications : PSIA-AASI Level 1 Alpine, PSIA-AASI Level 1 Snowboard, PSIA-AASI Freestyle Specialist Level 1
Specialty Lesson: Adults at any level
Ski or Ride: Ski, ride and telemark!
"My love for Breck doesn't end on the mountain; when I'm not on Peak 9, I enjoy exploring the lively restaurant and bar scene in town." - Samantha
Q+A
Favorite Peak to ski/ride and why?
Nine! It's often overlooked by advanced skiers/riders due to the sheer amount of learning terrain, but I think Peak 9 offers it all – fast groomers, a variety of bump runs, challenging trees, and even a small progression park.
One piece of advice for beginners in their first lesson?
Do your best to ensure your equipment and clothing choices are appropriate for your body and the climate. It's almost impossible to learn if your hands feel like popsicles, and ill-fitting boots can sour an otherwise great day quickly. Budget your time generously to go over those things at the rental shop and before arriving at the mountain. And, as a general rule, please drink lots of water before, during, and after your lesson. The high alpine environment can be harsh and unforgiving on our bodies – especially ones that are not acclimated to life at 10,000' and beyond.
Why should intermediate and advanced skill level guests take a lesson?
I primarily teach adults and as we age, efficiency becomes more and more vital towards longevity in extreme sports like skiing and snowboarding. Taking a lesson once you're already at that intermediate to advanced level can completely change your outlook on the sport by helping you get the most out of your body (and conserve your energy for the aprés).
Favorite part of teaching or being an instructor/guide?
I am truly passionate about skiing and snowboarding and I love sharing that passion by helping students realize they're often stronger and more capable than they previously thought at the start of the lesson. As an instructor, you're also an ambassador to Breckenridge, the Rockies and the sport as a whole. I strive to leave a positive impression and create/edify a lifelong love for the sport, too.
Favorite things to do or place to visit in town?
I am definitely a foodie, so I love exploring Breck's lively restaurant and bar scene in the search of the best tartare and old fashioned cocktails.
Please Note: This profile is an example of one of our many qualified instructors at Breckenridge. Instructor requests are limited to private lessons and individual instructor availability is not guaranteed.