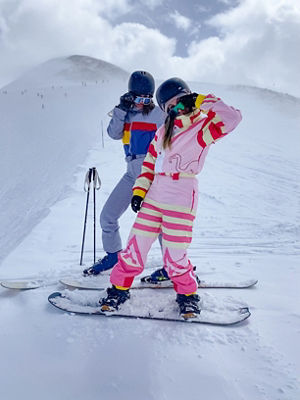 Springtime is for the High Alpine
At Breck, the high alpine is in its prime during our April and May operations. We have elevation on our side, our cool and dry climate, plus our good friend, the wind, which usually keeps conditions up top snow deposited, chalky and nicely buffed for your riding pleasure. We operate all Five Peaks at the resort through mid-April (Sunday, April 16 this season) and then the majority of our late spring operations take place in our high alpine as we send it into May. For the last half of April, and however long the season runs after that, you can look forward to approximately 1,000 acres of intermediate and advanced terrain across Peaks 6, 7 and 8, with everything primarily accessed via the Peak 7 base and Independence SuperChair. You can get the full scoop on our spring operating plans, including lifts and terrain,
here
.
Sunny with a chance of... everything!
Mother Nature can really switch things up in spring. One day it might warm and sunny, t-shirt-on-the-snow weather, and another day we might get a foot of snow. It's also entirely possible you might get a little taste of all the weather in the span of one single day. Make sure to check the forecast ahead of time to help you plan for a day on the snow, and know that weather and conditions can also change quickly in the mountains, and especially so in springtime. That said, spring often brings a generous helping of sunshine and blue skies, which we love! So perfect and sport that goggle tan, but don't forget to lather on the SPF. Sunny days, plus white reflective snow, can be a recipe for a toasty sunburn if you don't take the proper precautions. Trust us.