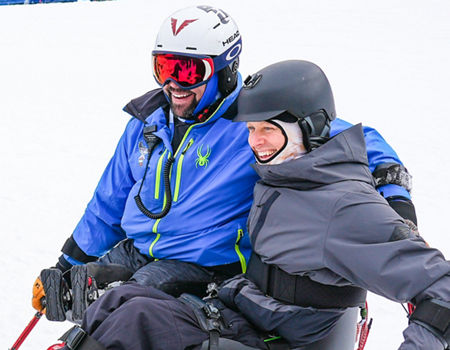 Join the Celebration on the Slopes: Move United's "Race for EveryBODY"
Are you ready to begin the winter season by joining in a fun race on the snowy peaks of Breckenridge in support of athletes of all abilities? The Race for everyBODY on December 8th is the perfect opportunity for you to have fun in the snow!
This isn't just any ski and snowboard event – In fact, it's an event like no other. It's a Giant Slalom fun race that welcomes everyone - whether you've never participated in a race or you've been carving up slopes for years, racing alongside adaptive athletes, making it a true celebration of ability, spirit, and inclusivity.
And there's an extra sprinkle of fun waiting for you! Slip into your favorite tutu (We know you have more than one) and you could find yourself the proud winner of some special prizes. This race is all about adding fun and laughter to an inclusive race.
The Race for everyBODY goes deeper than the rush of racing down a mountain. This event is a heartfelt nod to the unifying power of sports. It's about bringing people together, breaking barriers, and sharing the exhilarating world of winter sports with everyBODY. We're not just racing, we're building a community where everyone is valued, supported, and empowered.
What's more? Your participation helps Move United drive forward their mission to make the adrenaline-pumping joy of winter sports accessible to all. For more than 60 years, Move United has used the power of sport to push what's possible for youth and adults with disabilities, confronting ignorance, fueling conversation, and inciting action that leads us to a world where everyone's included. Also, Breckenridge has hosted Move United each December for over 30 years – welcoming adaptive athletes and specialized training to the town.
Not only are you setting out for an unforgettable day on the slopes, but you're also contributing to a movement that improves lives.
So, what are you waiting for? Find your skis, iron a tutu, and get ready to be part of something fun and unforgettable. To registration, glide over to Move United's Race for everyBODY event page. The Race for everyBODY is also an official part of the UllrFest program.
Let's hit the slopes and celebrate the power of sports together. See you there!