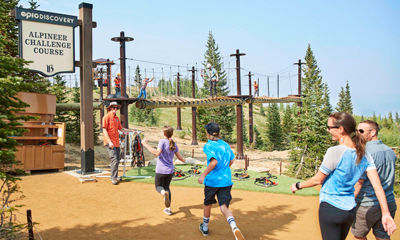 KNOW BEFORE YOU GO
Getting Here: Epic Discovery summer operations take place at Breckenridge Ski Resort's Peak 8 base area. Start your summer adventure at the free BreckConnect Gondola, located at 170 Watson Ave., Breckenridge CO 80424.
Parking: All Epic Discovery parking is located in the North Gondola Lot, operated by Breck Park. You can park here and pay with a credit card using an onsite kiosk or their smartphone app. There is no parking located at the Peak 8 base area, all parking is in town. Access Peak 8 and Epic Discovery by riding the free BreckConnect Gondola or taking the free bus from the transit station.
Ticket Pick Up: If you have made an online order for your Epic Discovery tickets/passes, please proceed to the ticket office located within Epic Discovery. Be ready to present your email confirmation.
Sun Protection: At 9,000 feet, exposure to the sun is 40% greater than it is at sea level. We recommend sunscreen with a sun protection factor of 15 or higher, as well as eye protection.
Lightning and Thunderstorms: Afternoon thunderstorms are common in the mountains and may cause interruptions and delays in summer activities and lift operations. Lifts and activities may close on occasion due to weather conditions, causing delays. Take proper precautions when you see or hear a storm developing: seek shelter, keep off ridgelines, and stay clear of chairlift houses, lift towers, power lines, open spaces, lone trees, and signposts.
High-Altitude Environment: The Town of Breckenridge and Breckenridge Ski Resort are located in a high elevation, high alpine environment, at a base elevation of 9,600 feet above sea-level. The elevation can affect people in different ways and visitors should be mindful of the effects of altitude. Symptoms may include headaches, nausea, loss of appetite, restless sleep, coughing, and difficulty in breathing. If symptoms persist or if you have a concern about your health, you should seek medical attention.
Adequate Clothing: Be prepared, as mountain weather can change quickly and there is usually at least a 10-degree temperature difference from the base of Peak 8 to the top of the lifts. Bring a raincoat and consider a sweater or fleece layer. Wear closed-toed, comfortable, sturdy shoes, such as hiking boots or tennis shoes. Hair ties are suggested for shoulder length hair or longer.

Pardon our Construction – Rip's Ride Chairlift Upgrade: This summer we are working to replace and upgrade the Rip's Ride chairlift on Peak 8 to a high-speed quad for the upcoming 2022/23 winter season. Due to this construction, there will be some impacts to summer trails and activities, particularly our Kids Base Camp area. Most notably, the Lil Climber Challenge Course and our Bungee Trampolines will move locations and operate near the Colorado SuperChair. In addition, we will not operate our kids summer tubing activity, kids zipline or the Breck Flyer Zipline.
Health and Safety Guidelines: Most activities have height, weight, and age requirements. Refer to each activity section to understand any restrictions that may apply. If you are pregnant or have heart, back, neck, or other serious health issues, you should consult a physician prior to participating in any activity. Most activities require guests to be ambulatory and be able walk on their own. Trained service animals are welcome in most locations on Breckenridge Mountain. Although trained service animals are welcome, guests who use service animals must retain control of their animals at all times and should keep them on a leash or harness while visiting. Documenting your vacation is always encouraged; check out our EpicMix Photos upon arrival, however Selfie Sticks are prohibited on our activities.
Rain Check Policy
Weather in the mountains can change quickly and unexpectedly. We will follow strict weather protocol with guest and employee safety as a top priority. Tickets are non-refundable and no refunds are issued due to weather. If all Epic Discovery activities are closed for 60 minutes or more day passes may be eligible for a replacement. Eligibility for a replacement pass is determined by pass usage.